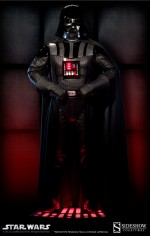 Could this be the Dark Side at work? Disney acquires LucasArts, and then Sideshow teases a life-sized Darth Vader that you could put in your toy room to crush all the rebel scum you have on your shelves.
The only thing that could make this better were if you could use it as a costume for next year's Halloween. No price yet, but you better start saving up your Galactic Credits!
Darth Vader Life-Size Figure
Sideshow Collectibles' Darth Vader Life-Size Figure was unveiled earlier this year at San Diego Comic-Con! For those that weren't able to attend, we're giving you a peek at this Sith lord today! This Star Wars must-have will be available for Pre-Order in the near future, so keep an eye on our site and through our weekly newsletter!
via Darth Vader Life-Size Figure Tease | Sideshow Experience.