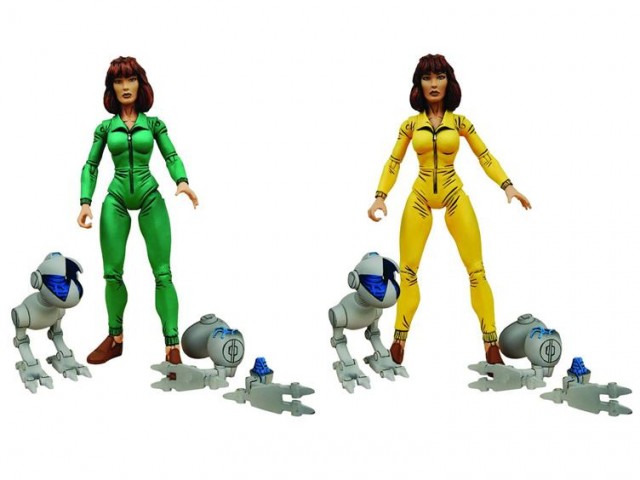 Poe Ghostal has published a great San Diego Comic-Con wrap-up, and it contains an update from NECA on Teenage Mutant Ninja Turtles.  We had heard before that it was international sales that had bogged down the first series, but not that NECA had altered the sales plan to try a figure at a time.  I still have a pre-order out there for series 2 – I wonder when that will be canceled.
Rustin attended an information session with NECA, where we got the story behind the second series of TMNT. As we all guessed, Playmates's deal with Mirage is preventing NECA from being able to sell their TMNT figures at Toys 'R Us. But you say: why can't they just sell them in specialty stores? As it turns out, the problem is with international sales. While the four Turtles in the first wave sold very well domestically, sales were virtually nonexistent overseas due to lack of recognition. Non-U.S. fans knew the classic blue, red, orange, and purple Turtles from the cartoons and movies, but the comic-based Turtles with their all-red bandannas just didn't sell. Therefore, NECA barely broke even on the line.

Therefore, the plan now is to sell a figure, see how it does, then try the next figure. The first will be April in green and yellow variants in the fall, and if she sells well enough, Shredder will follow. I understand why we're getting a yellow April–NECA's hoping that figure, which resembles the cartoon version, will sell well overseas. But why the green version? It doesn't make a whole lot of sense to sell the comic-accurate blue version as an exclusive at SDCC, then sell the green and yellow versions at retail–it should be blue and yellow at retail. In any event, fingers crossed that April's numbers merit us a Shredder. I already plan to pick up a couple Aprils for friends and family.
via Poe's Point > SDCC Wrap : Poe Ghostal's Points of Articulation.