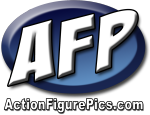 ActionFigurePics.com is a collector-oriented site that features news, reviews, and pictorials of action figures from personal collections, toy companies, and industry events like Toy Fair and San Diego Comic-Con.
Since our start in 2009, AFP has grown to over fifty thousand unique visitors. Our audience consists primarily of men, 18 – 44. They're college-educated and have kids. Our mobile audience continues to grow – they now account for over 40% of our visits.
While most of our visitors are from the United States, we do have an international presence, accounting for a strong representation of Asian and Hispanic visitors.
Here's some of our major publishing categories and latest articles from each:
Site Category
Recent Articles
Collections
Pictures and reviews of action figures in our personal collection
Action Figure News
Our coverage of major toy events like Toy Fair and San Diego Comic-Con, and updates from the major toy manufacturers
Q and A
Editorials, Q&As, and interviews with the major toy companies
Steals and Deals
Notable sales events from around the web
Custom Action Figures
Our customs and notable customs from around the web
---
Sign Up for AFP's Free Updates
We've got three popular ways to stay up-to-date with our latest pics, reviews, and news. They are all free, and we will never, ever, sell your e-mail address or send you spam.
Subscription Service
Instructions
E-Mail Newsletter
We'll send you an e-mail digest, at most once per day, with our latest articles and pictures. Plus, you'll get the chance to win Free Stuff!

Enter your email address in the box above, for example, [email protected].
Click the "Subscribe" button.
We will send you a confirmation to the email address you entered.
Simply click on the link in the email to confirm your subscription, and you're done. Easy peasy!

Facebook
We'll send links to your Facebook wall whenever we publish an article or pictorial.

Visit the AFP Fan Page on Facebook.
Click the "Become a Fan" button.

Twitter
We'll tweet a link whenever we publish an article or pictorial.

Visit the @ActionFigPics page on Twitter.
Click the "Follow" button.