Fan favorites Blink and Morph from Age of Apocalypse (I'll just pretend they are from the eXiles comic) are part of the next wave of Marvel Minimates from Toys R Us.
Toys-R-Us Minimates Wave 10 Revealed!
Continuing the Minimate invasion of the Toys"R"Us aisles, this latest assortment of Marvel Minimates is sure to impress with a mix of some of the old with the new as well as some more Age of Apocalypse two-packs to fill in the gaps in your collection!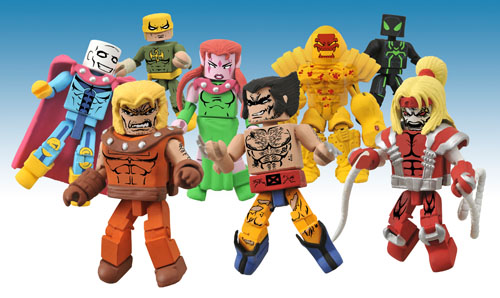 First up is Shadowlands own "street level" heroes Spider-Man and Iron Fist. Do they have what it takes to take down Daredevil and the Hand? Next in the assortment Danger Room Wolverine faces Russian super-soldier Omega Red in a battle to the death!
Finishing things out are Toys-R-Us exclusive Age of Apocalypse two-packs! The first of these exclusives features Sabretooth and his unofficially adopted daughter Blink. Rounding out the assortment is one of the Horsemen of Apocalypse Nemesis and Professor X impersonator Morph.