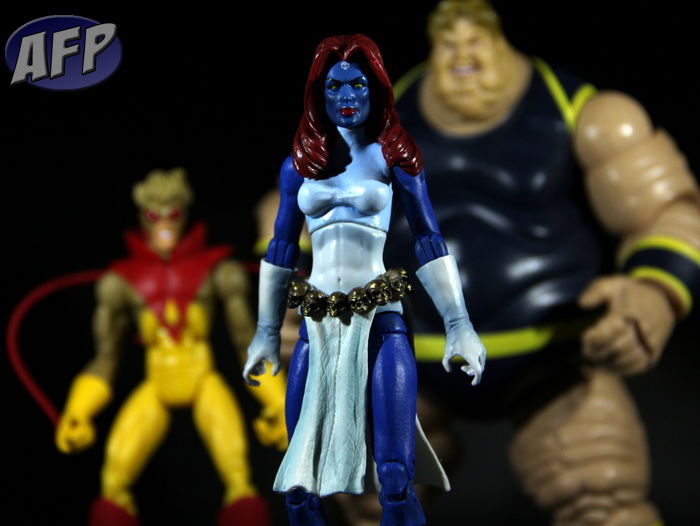 In my Hasbro (Return of) Marvel Legends Wave 3 Mystique Quick Pics post I included some pics of my (very short on members) Freedom Force, and wondered what to do about the lack of a good classic version of Mystique. I also had a shot comparing Ibentmyman-thing's custom Mystique head with the regular head – and as a stand-in I had placed the regular head on a female SHIELD agent that was handy. That got me thinking – white gloves and boots, and mostly blue body. A few days later, when I picked up the figures again, an even better set of fodder presented itself.
Putting together a classic Mystique is isn't that hard. For customizers just starting out and wanting to try something more than simple part swapping, this would be a good project, and one that will fill a gap in your Marvel Legends collection.
Here she is with the remnants of the fodder figures. The head comes from the (Ro)ML Mystique, of course, and the body from (Ro)ML Madame Masque – this turned out to be an even better match than the SHIELD agent, because the torso is already white. You'll have to do some repainting though, because there's some slight mods you'll need to make to the torso, if you want to be true to the classic costume, that is. And finally, I sacrificed my old Toy Biz ML Mystique from wayyyy back for the use of her belt and the bottom of her dress. Of course, this leaves me without a Madame Masque, but I'm not sure where she'd go in my display anyways.
There's two elements that makes this a little bit more work than swapping a couple of parts. First, Madame Masque's torso reuses the SHIELD agent torso, so if you want to be true to Mystique the shoulder harness has to come off. I used my Dremel for this, then smoothed the rough edges with Super Sculpey, Mod Podge (to smooth out any rough transitions) and super glue coat. What makes this a good practice piece is that most of this will be obscured by Mystique's hair – so if you screw up, you probably won't see it anyways.
For paint, I just used a wet palette to keep my blue and white paint from drying out, and mixed it so I could have a small tinge of blue in my mostly white mix, applied the paint very wet, so I could make it more white in some areas and more blue in others.
The second little challenge is making the belt fit. The Toy Biz Mystique is pretty small, so when I removed the belt from it and tried it on this custom, I knew it would be too small. So I sliced it into two pieces and did a quick sculpt job to add two filler skulls to bridge the gap. Again, it's a good opportunity for practice, because you can separate the belt so the gaps are on the sides, which will normally be obscured by the arms and hard to see anyways. I didn't spend more than 2 minutes a skull (they're very crude) but you wouldn't normally notice. With a black base coat and gold dry brush you'll match the rest of the skulls easily – if it's not close, you can always touch up the gold on the skulls too.
For some additional touches, I removed the white portions of the "belt" above the skulls and also sanded the inner portion of the overlay down, so it would sit closer to her body. I also shaved down her posterior somewhat (what a shame!) to accommodate the back of the dress over it, so it wouldn't make it seem like she was packing a ton of extra junk in her trunk.
I'm debating whether I need to get another custom Mystique head from Benty. I do like the shorter hair quite a bit, and it also has the skull sculpted on her forehead vs. the painted one that Hasbro did – but the long hair might fit the classic look better. What do you think?
Who knows – maybe Hasbro will get around to making a classic Mystique – aside from skull belt and dress bottoms, which could easily be a new overlay piece, they have all the basic parts needed. All it would take is the existing Mystique head, the Madame Masque arms and legs, and the smooth torso that came with Psylocke. Mystique is rocking this look again in the comics, but your guess is as good as mine as to whether Hasbro will revisit this character again.