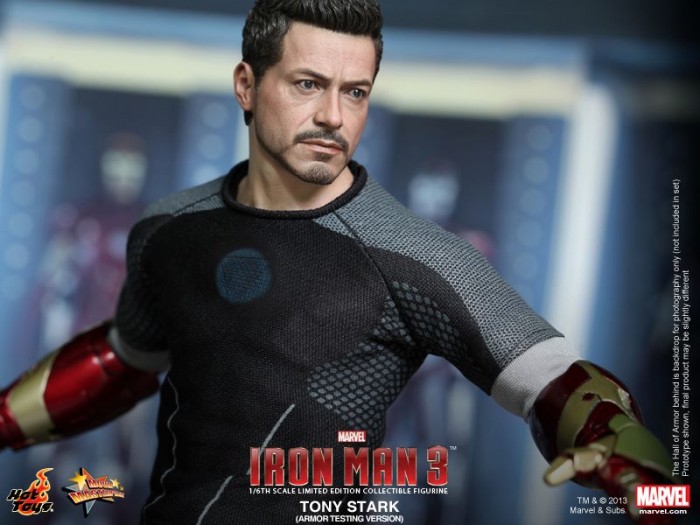 Hot Toys announced the Iron Man 3 Tony Stark (now dubbed the armor testing version) back in February. I thought the head sculpt was a decent likeness but apparently there was enough feedback that Hot Toys went back to the design studio and worked it a bit more. He looks a little worried now to me – considering what's in store from the Mandarin, I don't blame him.
Also added, an armored gauntlet for his right arm, to match the one they were already providing for the left. I think some people were hoping for a Pepper Potts instead. 🙂 She and Maria Hill are the only major supporting characters left from the Avengers without their own Hot Toys figures. Maybe Iron Man 3 will be the ticket for a Pepper figure.
Head Sculpt Update & Additional Right Forearm Armor

Marvel's "Iron Man 3" movie is coming in just one month more! We are highly anticipating the movie to come, especially after viewing the latest trailer and posters coming up recently.

We are pleased to share with fans the UPDATED photos of our first MMS item from the movie – the Tony Stark (Armor Testing Version) Collectible Figure which appears in his workshop while testing his Mark XLII armor.

Taking into consideration of fans' comments and requests, this modified collectible figure comes with an UPDATED head sculpt which will look highly movie-accurate to the brilliant industrialist Tony Stark in the movie, together with an ADDITIONAL right forearm armor to pair up with the left one!

Iron Man fans, please enjoy the photos first, while the actual product will be coming in a few months!
via Tony Stark (Armor Testing Version) Collectible Figure Updates!
Here's a look at the original head sculpt: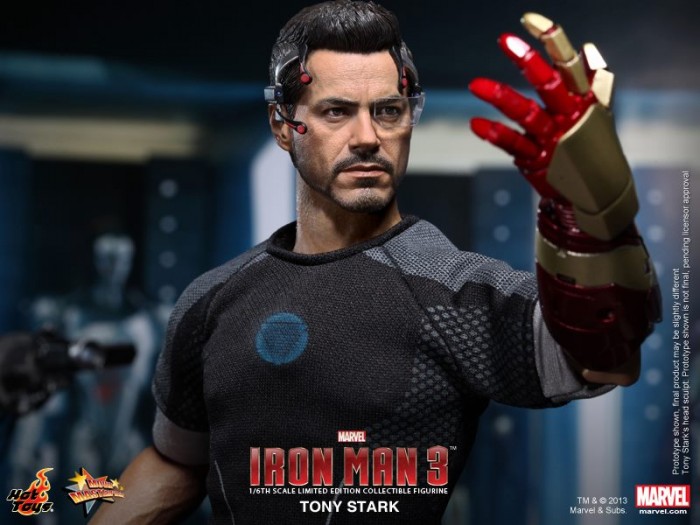 How do you like the new head sculpt in comparison?