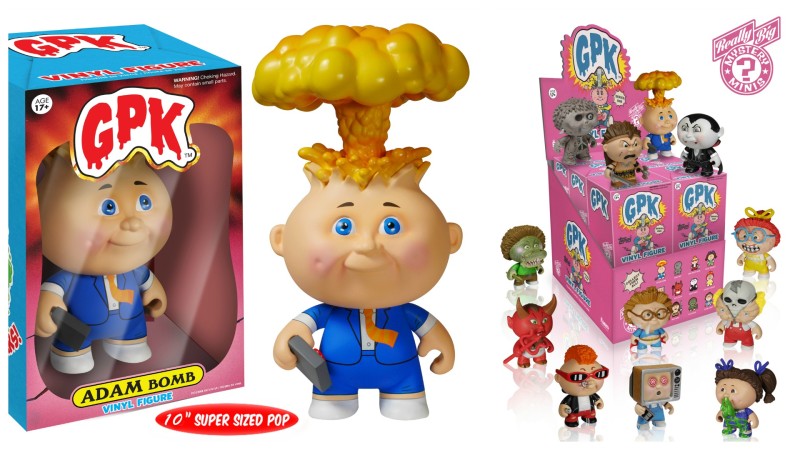 It must be #ThrowbackThursday. Funko has gone back 30 years to bring us back some Garbage Pail Kids. They've got 3.75-inch figures in a blind boxed format – which is the closest thing you can get to the trading card experience (except for trading cards, of course). But here, you're getting your favorite GPKs in three dimensions, in vinyl.
And for one of the most rare and valuable Garbage Pail Kids, Funko has made Adam Bomb in 10-inch vinyl. And for a far cry cheaper than what he's gone for in card format. Nasty!
Garbage Pail Kids Really Big Mystery Minis

Funko is proud to commemorate 30 years of Garbage Pail Kids with our Really Big Mystery Mini Series and Adam Bomb 10" Vinyl Figure!

Keeping these GPKs a Mystery is a must…But these are not so Mini!
They are 3.75" of disgustingly adorable, sickeningly sweet, vinyl like you've never seen.

Classics like Acne Amy, Ghastly Ashley, Leaky Lindsay, and Bony Tony have never been so vivid!
Each figure has a 1 in 12 rarity!

Available in July!

Garbage Pail Kids 10″ Adam Bomb FIgure

Our Adam Bomb 10" figure is the true centerpiece to our Garbage Pail Kids homage!
The figure utilizes high quality material and clean design to portray the iconic foulness of Adam Bomb's character!

Available in July!