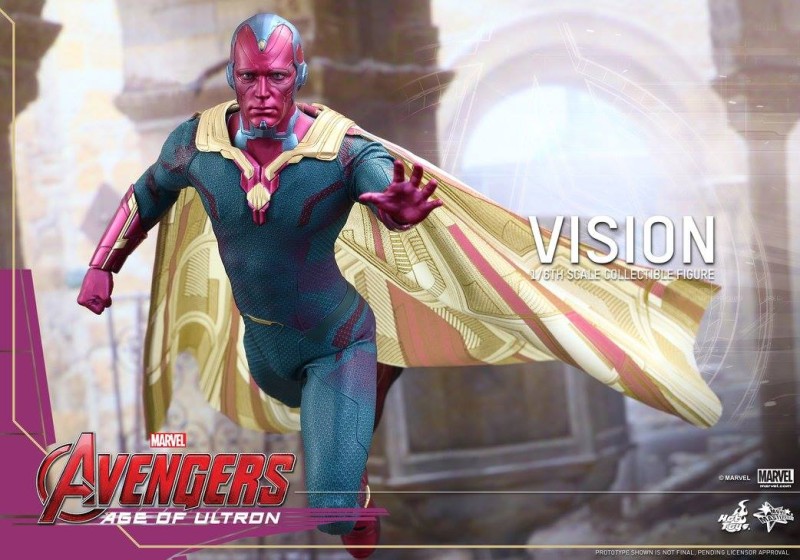 Marvel did a great job of teasing the reveal of Vision in Avengers: Age of Ultron, both in the marketing campaign and the movie itself. So it's not surprising that Hot Toys held back revealing their 1/6 scale figure of Vision until now, after the movie has been in theaters a couple weeks. This way, there shouldn't be too many folks wondering what that is in his forehead, or why he comes with Mjolnir, Thor's mystical uru hammer.
I think Vision has a great head sculpt, but I'm wondering about the clothing folds in his "suit" – isn't the movie Vision made out of Vibranium?
You can pre-order the Marvel Vision Marvel Sixth Scale Figure at Sideshow. Next up, Scarlet Witch?
Avengers: AOU 1/6th scale Vision Collectible Figure

"Well, I was born yesterday." One of the biggest highlights of the record-breaking Marvel's Avengers: Age of Ultron is the introduction of the new characters in the film! Originally planned to be the perfect "evolution" for Ultron, the Avengers was able to retrieve the android Vision and made him a valuable ally for Earth's Mightiest Heroes to stop Ultron from eradicating mankind!

Today, Hot Toys is excited to present the humanoid hero that many fans have been waiting for – the 1/6th scale Vision Collectible Figure!

The movie-accurate Vision Collectible Figure is specially crafted based on his image in Avengers: Age of Ultron. It features a newly developed head sculpt with detailed texture and Mind Stone, specially tailored costume and cape, Thor's hammer Mjölnir, and a specially designed figure stand.

Your Avengers: Age of Ultron collection wouldn't be complete without the addition of this powerful android!