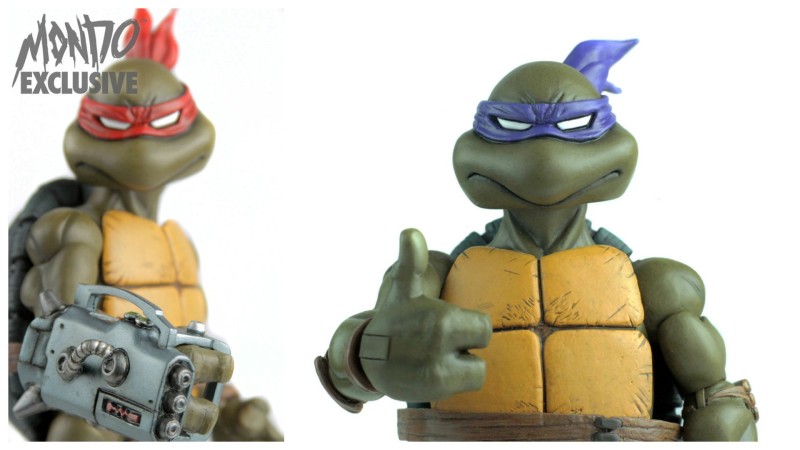 The second of Mondo's 1/6 scale Teenage Mutant Ninja Turtles is up for pre-order today – it's the staff-wielding Donatello's turn. I was lucky enough to pick up the subscription with Leonardo last month, but for those of us picking these up individually, Donnie is available in a regular version for $149.99 and an exclusive for $10 more.
Both are loaded with accessories, including both the cartoon purple and comics red masked heads, while the exclusive version, limited to 500 pieces, includes his Gravitic Equalizer.
Pre-order here: Donatello 1/6 Scale Collectible Figure | Donatello 1/6 Scale Collectible Figure (Mondo Exclusive)
Donatello, the genius inventor of the Teenage Mutant Ninja Turtles, is available for the first time in 1/6 Scale! Based on the original Eastman and Laird comic book, Donatello features 25+ points of articulation, interchangeable heads & hands, with weapons & accessories taken right from the pages of the comic book! Continue your Mondo TMNT 1/6 scale collection today!

Accessories Include:

Classic Comic Red Mask Head
Cartoon Purple Mask Head
Bo Staff
1 set of C-Grip Hands
1 set of Climbing Claw Hands
Unique "Vertical Thumb of Affirmation" Hand
2 Four-Point Shuriken
2 Eight-Point Shuriken
Grappling Hook and Cord
Utrom Blaster
Belt with Bo Holster
Utrom Commander
Pre-Mutation Baby Donatello

This item is expected to ship 2nd / 3rd Quarter of 2016.

Mondo Exclusive: This version, limited to 500, includes Donatello's Gravitic Equalizer!