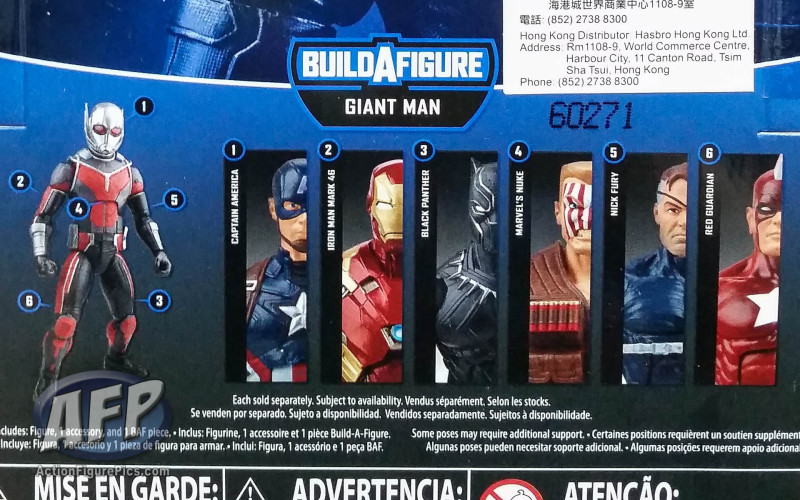 Hasbro released a press pic of the Build-a-Figure from the second Captain America wave of Marvel Legends – Giant Man from the Captain America: Civil War movie due out May 6 this year. The assortment should hit shelves this summer and will include Captain America, Iron Man in the Mark 46 armor, and Black Panther figures from the upcoming film, as well as Nuke, Nick Fury, and Red Guardian figures from the comics.
In addition to the pic of Giant Man, I was lucky enough to find fresh cases of the Cap wave at a local toy store during a recent trip to Asia. Apologies in advance for any blurry shots – I was hastily snapping shots and putting the figures back into the cases, as they were exorbitantly expensive. But I was able to get some pics of each of the six figures, including some close-ups of the alternate heads that will come with a few of them.
First let's take a look at the official pic of the movie Scott Lang Giant Man figure.
MARVEL'S CAPTAIN AMERICA: CIVIL WAR 6-INCH LEGENDS SERIES Action Figure Assortment

(Ages 4 years & up/Approx. Retail Price: $19.99/Available: Summer 2016)

Fans can collect these impressive 6-inch scale MARVEL LEGENDS SERIES figures, featuring fan-favorite characters from Marvel Comics and the hotly anticipated new film Marvel's CAPTAIN AMERICA: CIVIL WAR! Each figure features extensive articulation, detailed sculpting and deco, and each comes with a piece of a large Build-A-Figure! Collect all figures in each wave to complete a different Build-A-Figure. Characters include CAPTAIN AMERICA, IRON MAN, BLACK PANTHER and more. Each sold separately. Available at most major retailers and on HasbroToyShop.com.
Now here's the in-hand packaged shots from the toy store.
As you can see, the movie figures (Cap, Iron Man, and Black Panther) are adorned with the Civil War logo. The comics-based trio (Nuke, Nick Fury, and Red Guardian) have a plain Captain America logo. Each of the six figures comes with a piece of the BAF – unlike previous waves, this one lacks a seventh figure that comes without a piece. The cases I saw were still packed eight figures per case – Cap and Iron Man were doubled.
Hasbro continues to pack accessories in with the figures. Cap and Red Guardian get shields and Iron Man gets alternate hands and repulsor blasts. Black Panther, Nuke, and Nick Fury come with alternate heads. You'll get an unmasked T'Challa head, a battle-damaged Nuke head, and two alternate heads for Fury – one is a standard SHIELD helmet for army building, while the other is someone I am not familiar with – anyone know who it is?
Pre-orders have not yet gone up for this wave, but some listings for the Marvel Legends Civil War Giant Man wave are starting to trickle in on eBay. Happy hunting!