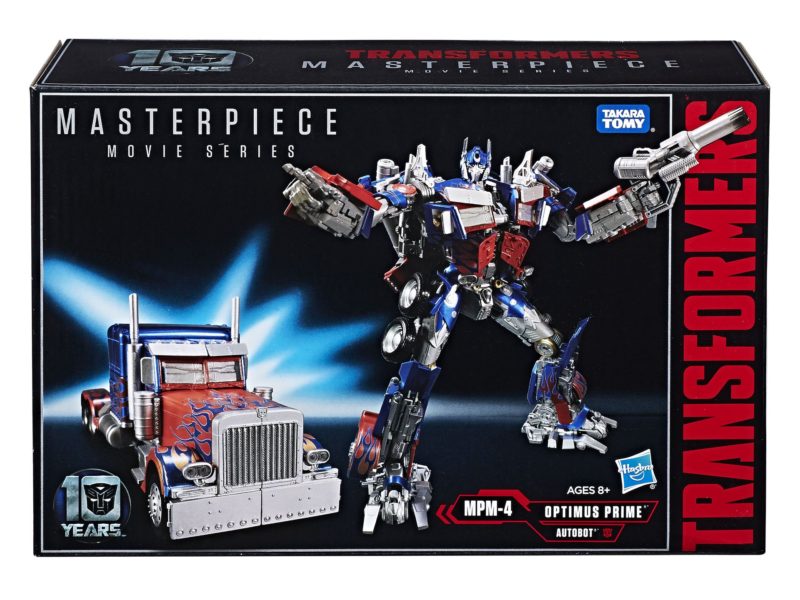 The last I saw of Optimus Prime, back in 2014's Transformers: Age of Extinction, he was flying off into space, apparently leaving Earth behind. So while I was not at all surprised to see him back on Earth in the trailer for Transformers: The Last Knight, it was a bit of a shocker to see him as the supposed villain… although maybe not as much as seeing Mark Wahlberg fighting Transformers with a sword.
If bad guy Optimus Prime has you reminiscing back to when we were still somewhat hopeful about Michael Bay's handling of our beloved childhood memories, then help is here; Hasbro recently announced that the Optimus Prime we know and love, from the first Transformers live action movie, will be joining the Transformers Masterpiece Movie Series this summer. Another shocker? That movie came out ten years ago.
TRANSFORMERS MASTERPIECE MOVIE SERIES OPTIMUS PRIME MPM-4 Figure
(Ages 8 years & up/Approx. Retail Price: $99.99/Available: Summer 2017)
Get in the action with the latest figure from the MASTERPIECE MOVIE SERIES, the OPTIMUS PRIME MPM-4 figure! Co-created by Hasbro and Tomy, the figure is inspired by the iconic OPTIMUS PRIME character in the original 2007 TRANSFORMERS film and celebrates the 10th anniversary of the TRANSFORMERS movie franchise. Pay homage to the great AUTOBOT leader with all the detail you expect from a MASTERPIECE product, including die cast parts! The OPTIMUS PRIME MPM-4 figure converts from robot to classic truck mode and showcases Earth's greatest protector with eye-catching detail, articulated fingers and an interchangeable mask – perfect for fans and collectors alike. The sleek, signature flame design is emblematic of his inextinguishable drive to fight for freedom. Converts in 43 steps and comes with a Matrix of Leadership accessory and other exciting weapon accessories.
Don't worry, Optimus Prime fans! There's precedent in the animated series for Optimus Prime doing a heel turn on his Autobot friends, before saving the day, once again. So I'm pretty sure we'll see him make a heroic turnaround before the end of The Last Knight.
Because Michael Bay wouldn't trample on our childhood memories again, would he? Would he?!