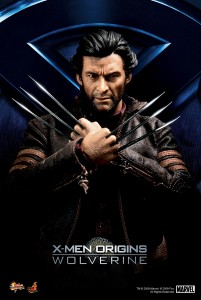 The guys at Collectible News (a German movie collectibles site) uncovered this teaser pic.
This was announced back in April.
He is not an animal!
He is X-men – Wolverine – In 2008 Summer, the first Sci-fi movie to hit the box office was the Iron Man, and we were more than happy to bring you the three generations of Iron Man! In 2009, who will be the first superhero to reveal on the big screen?
Here he is – the Wolverine from X-men Origins: Wolverine – a hero who never gets old or die!
In this movie, the story tells about how Logan became Wolverine and the enmity between himself and his brother – Sabretooth. Our Hot Toys team can't wait anymore to watch this most anticipated Marvel superhero movie, because…… we are ready to bring you the Wolverine 12 inches limited edition collectibles very soon, exciting right?
Meanwhile, let's buy your ticket online and enjoy the movie before our next announcement.