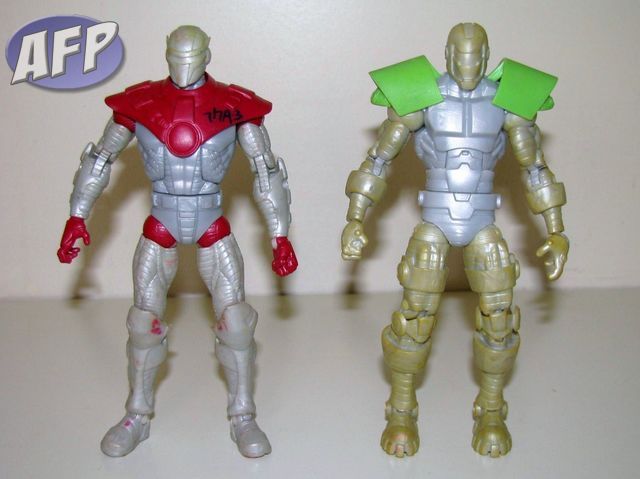 I promised you a break from all the Mattel goodness that's going on right now.  You may recall that a couple of weeks ago test shots for the 6-inch versions of Crimson Dynamo and Titanium Man were on auction on eBay.  Turns out that Fwoosher worldwar_hulk won a set of these test shots, and has sent along a huge number of pics.  You may notice a Marvel Legends 2-pack Iron Man in one of the group shots – you can see more of that gold Iron Man repaint in worldwar_hulk's Fwoosh customs thread.
We first saw these figures as images as part of Hasbro's Marvel presentation at Toy Fair last year,  and were crushed when Hasbro pulled them from their display booth prior to the start of San Diego Comic-Con last July.  I am hopeful that since these have had tools made, we'll eventually get them on our shelves.
Crimson Dynamo
Titanium Man
Here's what worldwar_hulk had to say about the figures:
I'm a little sad that the seller didn't send me the Exact figures that were shown in the ebay listing. The auction said that the pictures were for the exact figures that were listed. So I was a little bummed that my colors are a bit off from what I was expecting to receive. That was a pretty big part in why I purchased those specific listings. Oh well. They're still really cool figures.

6″ scale, great sculpts, double hinge knees & elbows, ball jointed shoulders & hips, CRIMSON DYNAMO! TITANIUM MAN! What more can I ask for?

Actually Titanium Man's hips are thigh-cut kinda like how Mattel's new WWE Elite figures are done. It looks pretty cool. Bummer about the hips still being 45° though, rather than 90. But whatever. I'm just happy to finally have these guys.

They fit in perfectly with all of your other 6″ Iron Man & Marvel Legends stuff. Glad to see that they're still doing all of the GOOD articulation with these guys. Unfortunately Titanium Man's double hinge knees & elbows are a little restricted by his sculpt. It's nice that they thought about the double hinges, but it might as well have been single hinge on him.

I really hope that Hasbro goes the extra mile with the paint on these guys, and gives them Glossy Metallic finishes (When or IF Hasbro releases them). A good paint job could really make these guys look killer.

Oh, and YES these Dumpster Test Figures are still very much poseable/playable. Some of the joints are a little loose. But the plastic seems to be strong quality. No signs of breaking on the way. Very few minor blemishes in the plastic molding (no worse than what an Official Finished figure would have). The figures that I received may have originally been the exact color as the ebay listing (at one point). But you can definitely see some discoloration in the plastic when you move the joints. So maybe the odd color change on my figures has something to do with the plastic being this "Test" plastic. Who knows.

All in all, I'm totally happy with these guys. I really hope that Hasbro gets around to releasing them for real.
via The Fwoosh • View topic – Iron Man 2 Figures.
Now for some group and scale shots:
Huge thanks to worldwar_hulk for sharing these pics!