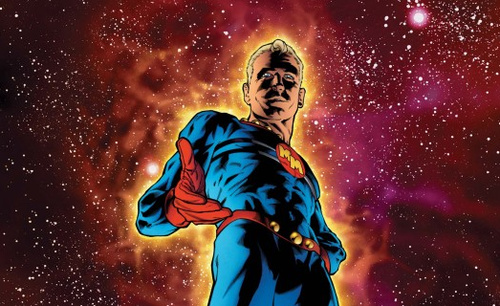 ToyOtter at ActionFigureInsider pointed out this article at Bleeding Cool – claiming a Marvelman exclusive from Hasbro for San Diego Comic-Con. It's got the ring of truth to it, but I'll look for confirmation. Last year, Hasbro produced multiple Marvel Universe exclusives for SDCC, so I don't think Marvelman is precluded by the Ages of Thunder Thor and Ultimate Captain America that they announced at Toy Fair.
Hasbro To Debut Marvelman Figure At San Diego

Last year, Joe Quesada announced that Marvel had bought the rights to the Marvelman character from Mick Anglo. Last month we discovered Marvel were publishing a number of classic Marvelman strips from the fifties and sixties. And now it seems Hasbro are getting in on the act with a Marvelman toy. And making it a San Diego 2010 Exclusive.

Negotiations over the rights to the Alan Moore/Garry Leach/Alan Davis/Chuck Austen/Rick Vietch/Jon Totleben/Neil Gaiman/Mark Buckingham run on the book from the nineteen eighties have still not been fully nailed down, so the odds are that the character will be based on the original Mick Anglo designs rather than the Garry Leach look.

And odds are it should look a little better than the Todd McFarlane versions….
via Hasbro To Debut Marvelman Figure At San Diego Bleeding Cool Comic Book News and Rumors.