The Hasbro Marvel brand team is back with another round of Q&A. Thanks guys!
1) A couple of months ago, you revealed some new Iron Man 2 3.75-inch figures we hadn't seen before – Black Widow, Nick Fury, and unmasked versions of Iron Man in the Mark VI armor and War Machine. When should we expect to see those on shelves? Will they be widely available or exclusive to a retailer? Will Iron Man and War Machine come with interchangeable heads for their masked looks?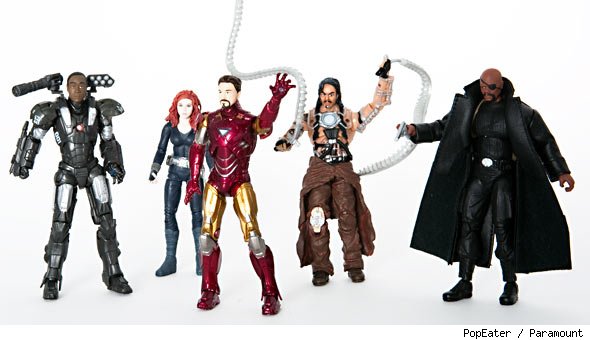 These will arrive in store this fall (closer to DVD timing in October) at various retailers. We do not yet have confirmed launch dates from the retailers – so keep your eyes peeled! And, yes, they will come with their masked looks as well.
2) The Wal-Mart exclusive Iron Man 2 6-inch figures are out and are labeled "Movie Series" – what are the plans for a "Comic Series" release in 6-inches, like you have in the 3.75-inch scale? Any update on the 6-inch versions of Crimson Dynamo and Titanium Man that collectors are salivating for?
We are always thinking of new ways to broaden the scope of Marvel Universe. While we can't confirm any specific plans just yet, we are definitely exploring our 6″ assortment offering. Thanks!
3) After Marvel Universe started shipping at a blistering pace (we got some 2010 product at the end of 2009), it feels like we haven't seen any new product in a long while. Is that because you were shipping a ton of Iron Man product? When are the next series of single carded and comic packs from Marvel Universe going to hit shelves, and what kinds of surprises do you have in store for us? Phoenix variant?
Iron Man is very important to us, however, we have not decreased our product offering among our other brands. Offerings are often a bit lower in the beginning of the year, but they should be increasing. As for surprises… we like surprises! Be on the lookout for the 25th figure… we're saving the best for last. And check out our booth at Comic-Con for a look at even more figures!
Here's the round-up of other Marvel Q&A from other toy sites: (links to be added as they come up)
MarvelHub
One-18th.com
Marvelous News
Figures.com
Raving Toy Maniac
Toy Ark
ActionFigs.com
Action Figure Insider