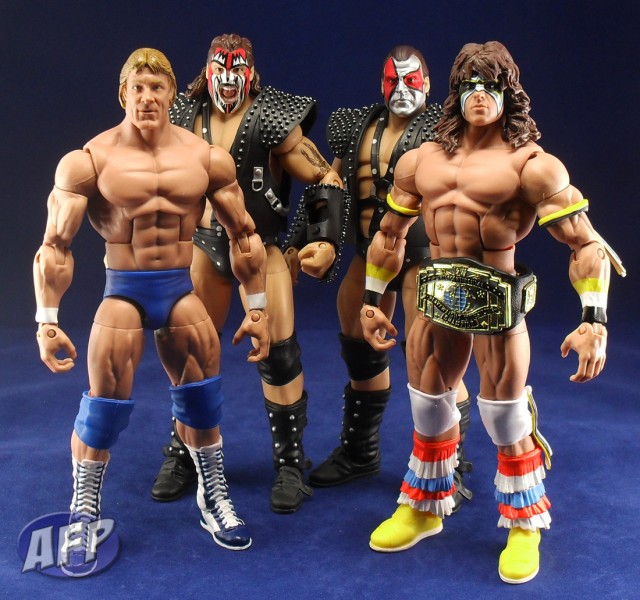 I was in Kmart a few days ago hunting some Mattel WWE Elite wrestling figures to use for customs and had the good fortune to find WWE Legends Series 4. Knowing these wouldn't sit long, I picked up a couple Ultimate Warriors (one for Ron), the Demolition team – Ax & Smash (also for Ron) and Mr. Wonderful – Paul Orndorff. Once I got 'em home, I figured I ought to share some pics with y'all before I mailed Ron his figures and commenced to kitbashing on mine.
The overall quality of these figures is high. Like the Elite figures, the Legends are extremely well made, with very durable feeling plastic. Mattel's WWE design team is obviously paying a great amount of attention to detail with the head sculpts and paint apps. I haven't bought many of these figures but the few I have bought have super tight and detailed paint apps with very little slop. My only nit pick would have to be about the odd, Jakks-like tinted flesh tone on the Demolition boys. They look jaundiced compared to Ultimate Warrior and Mr. Wonderful.
Mr Wonderful – Paul Orndorff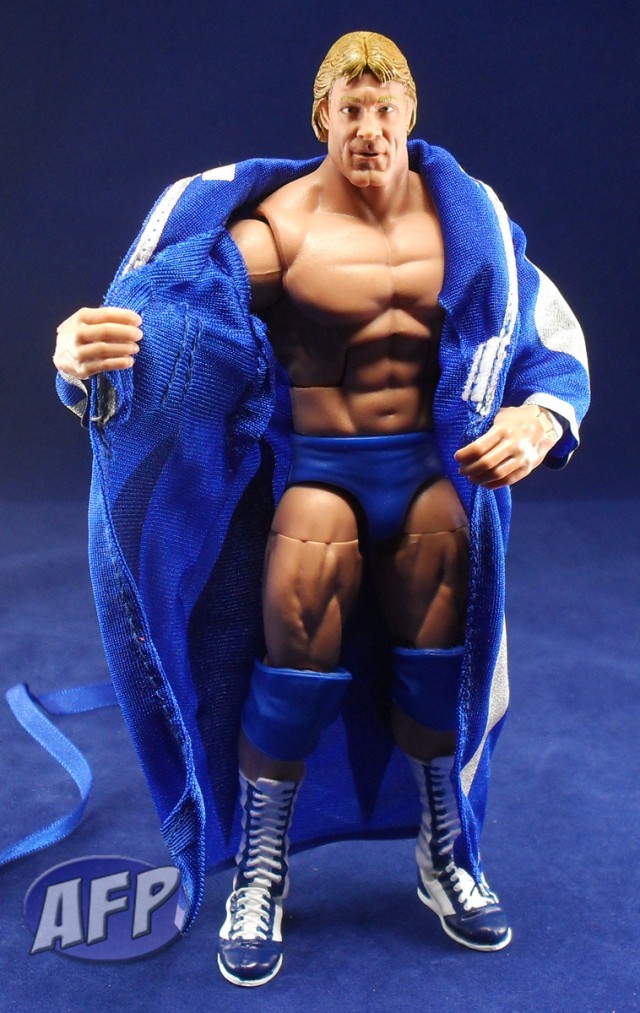 I was surprised at how short they made Paul Orndorff and Ultimate Warrior. I knew they had the same upper body as the Elite Triple H and Batista so I assumed Orndorff and Warrior would be tall but they're sporting shorter thighs and calves which gives them a very stocky appearance.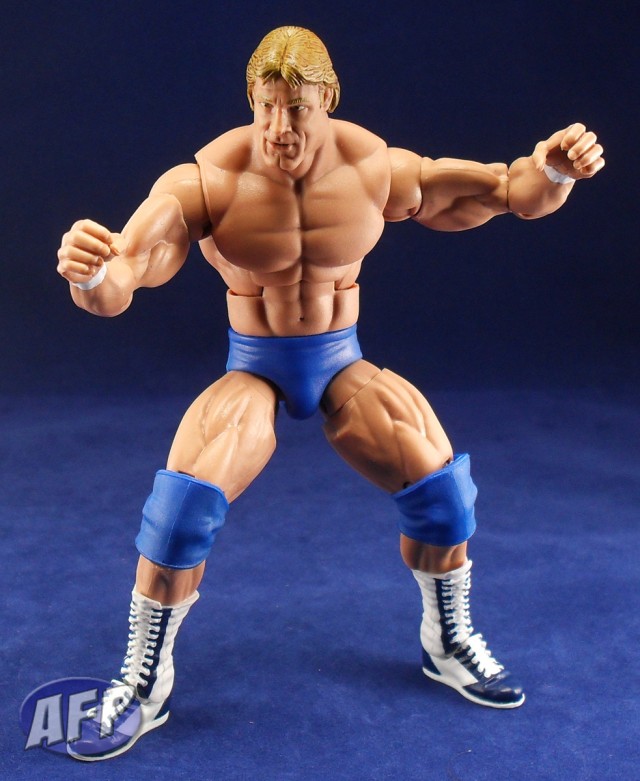 Click here to view more pics of Mr. Wonderful in the AFP Gallery
Ultimate Warrior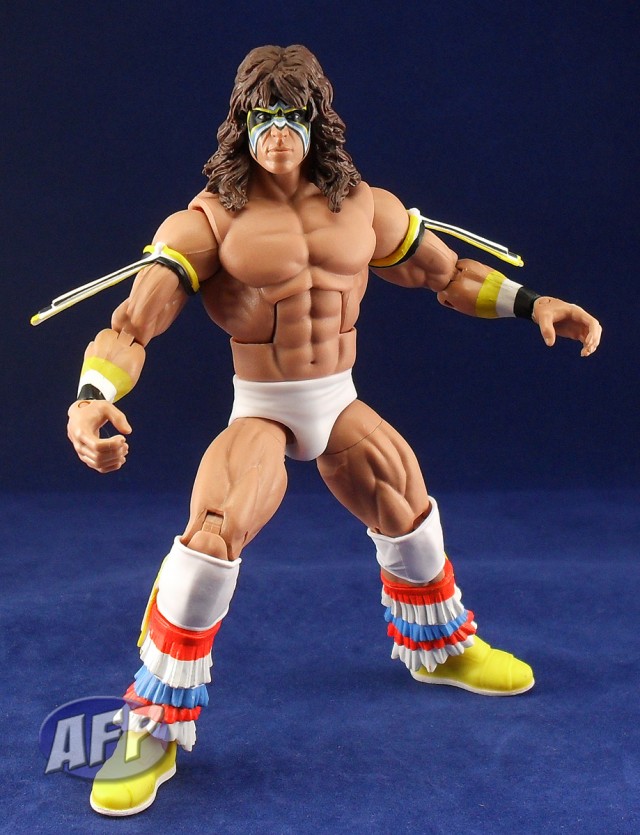 Wow. The 80's was a weird decade. Did Ultimate Warrior and David Lee Roth happen to be roommates back then?
All joking aside, UW is a great figure and I'm sure his fans will be very pleased with the job Mattel has done rendering him in super articulated, plastic form. He's a vision in tassels and fringe and ready to throw down.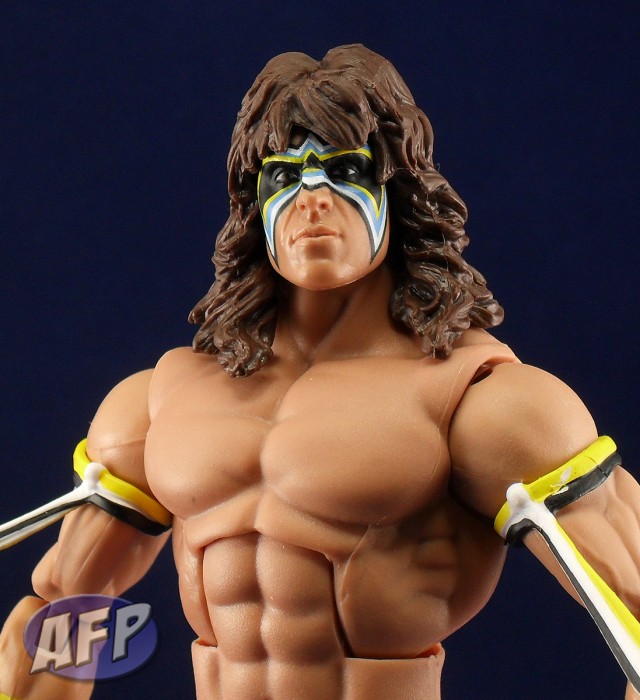 Click here to view more pics of the Ultimate Warrior in the AFP Gallery
Demolition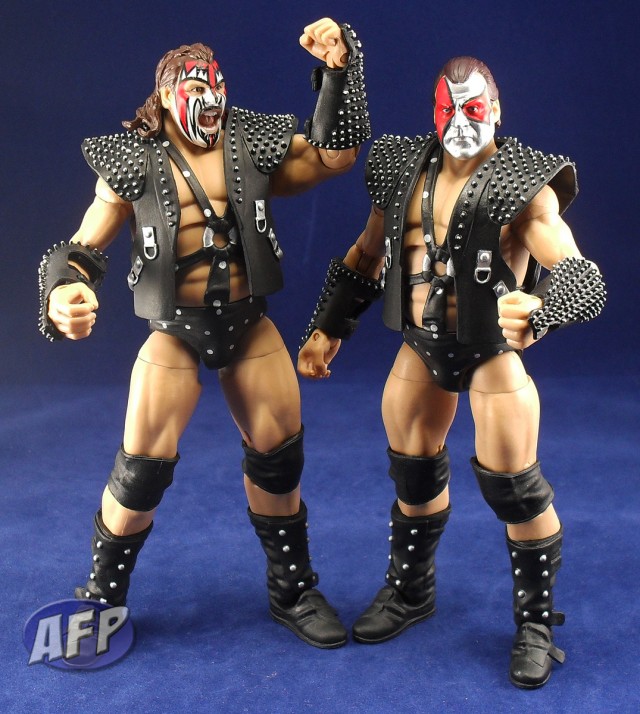 More 80's weirdness! Both Kiss and the movie Road Warrior had a huge impact on wrestlers in the 80's.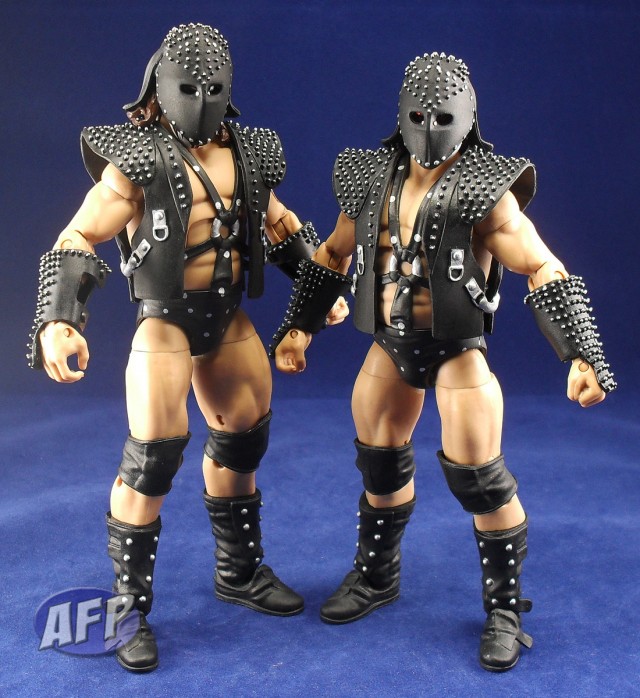 Gotta give props again to Mattel's WWE Design Team, they didn't short change Ax and Smash in the costume department at all as their S&M accoutrements are very well made and loaded with details.
Another detail that should be pointed out is the difference in height between Ax and Smash. They both use the same body except that Smash has longer shins between his boot swivel and knee cap to give him an extra bit of height over Ax. Very cool that Mattel went the extra mile to add that bit of realism.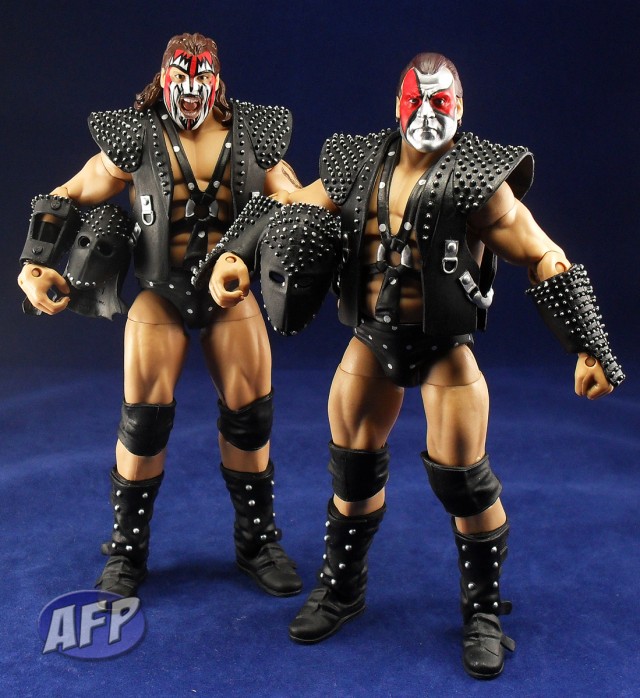 Click here to view more pics of Demolition in the AFP Gallery
There you have it, more 80's Wrestle-Mania from Mattel's WWE Legends line! Get 'em while you can.
Happy hunting!