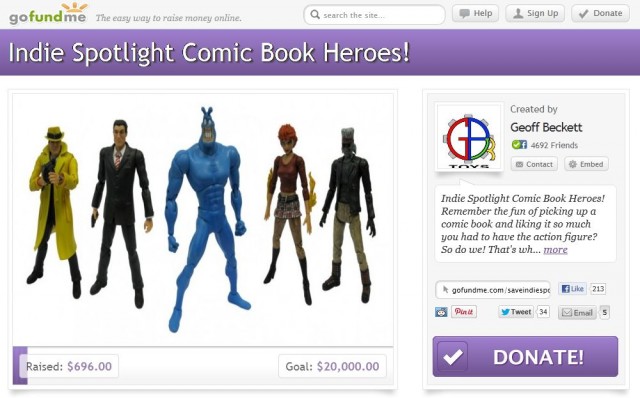 An old proverb suggests that "If at first you don't succeed, try, try, try again." Geoff Beckett of GBJR Toys has certainly taken that to heart. He's now on his third effort to utilize crowd funding to bring toys to the market. The current campaign to "Save Indie Spotlight" is on GoFundMe with a target of $20K, to be used to "produce a new run of the Series2 Indie Spotlight action figure line." If the campaign hits $30K, Beckett says he will produce an exclusive online campaign version of the Maxx as one of the campaign rewards. The campaign has been open for over 3 weeks, and in that time it's managed to raise over $700.
The current line-up for Indie Spotlight Series 2 consists of two versions of Dick Tracy, the Tick, Ignacia from Wildguard, and King Zombie from Deadworld. It omits Jack Staff, who was originally shown in with this line-up back in 2009. The Weird World of Jack Staff Facebook page, which has creator Paul Grist as the contact, claims that the GBJR / Shocker Toys license for Jack Staff expired a few years ago.
Beckett's two previous crowd funding campaigns from earlier this year did not meet their funding goals. The first campaign was for a line extension of DIY Plush Mallows. It was promoted on Kickstarter this past September, but missed its $9,850 target, raising only $583. The second campaign was taken down prematurely by Indiegogo. GBJR Toys claimed on its Facebook page that it was a victim of malicious lies from multiple sites, including TheFwoosh.com (full disclosure: I am part of the staff at the Fwoosh).
Well everyone, thanks to the internet Trolls who breed on Fwoosh, Bleedingcool and other Bias sites our campaign has been frozen. They falsely reported us to Indiegogo in effect ending our campaign and ruining our momentum we had for Series2 and Indie Spotlight in general. What happened to collecting toys and having a great time doing it? When did malicious, devious and downright nasty behavior become part of it? We hope to get this situation resolved and get our campaign back on track and we hope to see the collecting community come together as a whole and support us in a show of our love for toys and collecting without the low down dirty tactics of people out to get their own kicks. We thank all those that contributed or were going to contribute. [GBJR Toys on Facebook]
I did find a post on the Fwoosh that did claim writing an email to Indiegogo. The Fwoosher, Wedge74, also admits to being biased and to holding a grudge, so I suppose the only thing I can be offended by in GBJR's comment is the assertion that the Fwoosh supports a community conducive to breeding internet trolls. 😀
It's probably best for you to read the post in its entirety to see if it deserves being labeled the ranting of a troll, but I'll include here the opening of the email to Indiegogo.
The indiegogo campaign for GBJR Toys *http://www.indiegogo.com/indiespotlight?a=1633085 [Note: link is no longer active as the campaign was taken down] *is headed by Geoff Beckett, the former self-proclaimed CEO of Shocker Toys.

Shocker Toys (Geoff Beckett) is infamous in the action figure community for taking pre-order money for action figures and then not delivering. Several message boards have warnings to potential victims/customers.

Even editing his own Wikipedia page can't make him seem legit. http://en.wikipedia.org/wiki/Shocker_Toys

Most recently, he was notorious for selling exclusives for 2010 San Diego Comic Con and not delivering. To get the figures, you had to pay ahead of time, and once the convention arrived, there were no figures. He promised they were on their way but the boat was delayed, but to this day they have never materialized.

He has no intention of making these figures, and if you look into his past at all you find that he has said on more than one occasion that they were already produced, and were in shipping, only to later claim ridiculous excuses as to why they didn't make it. Some of the more famous/infamous excuses have been that the ship sank, customs destroyed them all, pirates stole them, the factory stoles them, "rogue agents" in China ran off with the die molds. The list goes on and on. [Wedge74 on TheFwoosh.com]
The economic climate, with oil prices and the cost of Chinese labor rising, has made it very tough for small and independent toy makers to succeed. I've even heard from product folks from both Mattel and Hasbro that it's affecting their business. So when opportunities like the Save Indie Spotlight campaign surface, I'm predisposed to lend support to the little guys out there.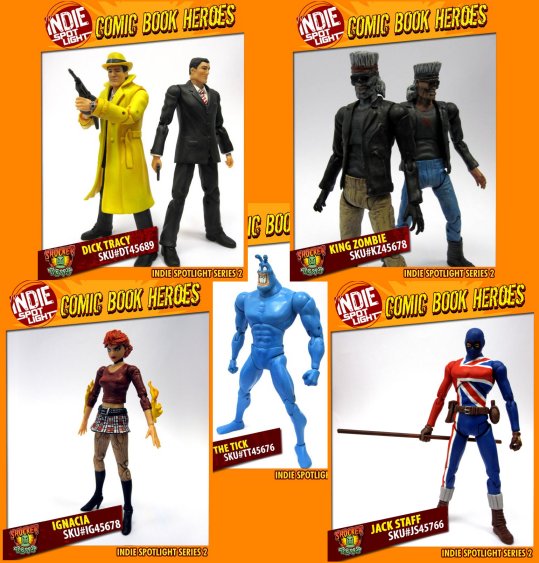 However, there are some questionable aspects to this campaign:
Beckett has distanced himself from his former position as CEO of Shocker Toys. For example, the disclaimer at the bottom of the current campaign says "*Disclaimer* (This campaign, Geoff Beckett Jr. and GBJR Toys are not affiliated with Shocker Toys LLP)". However, GBJR Toys chose to assume the Shocker Toys Fan Page on Facebook instead of establishing its own, and the GBJR Toys website still links to multiple pages on the Shocker Toys domain.
On top of this, many of GBJR Toys' statements about its relationship to Shocker Toys are somewhat misleading. These statements, like the one in the current campaign description, refer to Shocker as a nameless company – "Geoff Beckett Jr. of GBJR Toys was fortunate enough to obtain the rights, domains and ever popular toyline Indie Spotlight from another company who grew the line and with that deal has created an action figure body system that will improve and make action figure production faster and full of more choices per series." Although I have not seen him claim a title with GBJR, I would guess Beckett is CEO, just like he was CEO of Shocker.
Many people have claimed to have not received action figures they had pre-ordered from Shocker Toys. I know a few personally from the Fwoosh, but I have also seen several comments on the GBJR / Shocker Facebook timeline.
Unlike Kickstarter, where campaigns must reach their funding target in order for pledges to be transferred, Indiegogo and GoFundMe have options for the funds to be transferred regardless of whether the campaign succeeds. What will happen to the folks who pre-ordered Indie Spotlight series 2, if GBJR doesn't get enough money to fund the production run?
I reached out to Geoff Beckett for comment. Here's what he had to say:
I am no longer with Shocker Toys. Gbjr Toys had agreed as explained on all sites to fulfill the open orders with Shocker and there isn't many of them just a handful. This campaign was raised due to the cost incurred by taking over the lines, domains, etc. Gbjr Toys will raise the funds through the campaign and other means to get fans the toys they want and continue the Indie Spotlight line the way it should have been released without the sabotage from certain websites and people. Our first campaign was shut down due to a person lying about Gbjr Toys and they tried again to shut down our second campaign. Fans have spoken on Facebook and more where the bullies can't silence them stating they want this line to flourish.
I then asked Beckett about the transition from Shocker to GBJR, since some people find his statements about buying the toy lines from Shocker confusing – some people equate Shocker with Beckett, and to them it sounds like he's saying he bought the toy lines from himself.
I was not the only person at Shocker which no one seemed to understand no matter how many times it was re added to the highly skued [sic] wiki page. I was the person in charge of production and dealing with the factory. We also had full staff at panels at the comic shows but yet I was the only person viewed as Shocker because I spoke on the forums. I resigned from Shocker and did not sell it. Shocker is owned by one of the original partners and I did buy the lines I invented and the domains. Again as many times as it was explained that Shocker was ripped off by an agent for everything they had no one wanted to write about it and certain people buried those facts and removed them from wiki. Basically they skies [sic] everything to say Shocker was crooks and frauds and they never released anything which we both know is untrue. They have the wiki stating the company did limited exclusives instead of toys which is ridiculous since the figures were sold in Toys R Us and Hastings.

I do not know why people had it out for Shocker and people always asked them but they never had an answer. At Shocker I invented 3 toylines and despite the constant negative hammering they were liked by toy fans. After the agent problem I discussed leaving and taking back the lines I put together. Once I left and started Gbjr toys I felt responsible for the handful of orders still open through Shocker so I stated I would fill them. Gbjr Toys plans to release what Shocker could not by raising funds through the campaign and other avenues. The toyline was a great idea I mean look Marvel toys copied the idea after we premiered it. So it will live on and I think fans have said they want to see more.
When I asked about getting in touch with his former partners at Shocker Toys, Beckett said that he has not heard from them in over a year, and that emails to them just bounce.
The Save Indie Spotlight campaign (click for more info or to pledge) continues to collect donations, albeit slowly – the total has grown by $45 since I first found it late last week. Beckett remains optimistic, telling a fan on the GBJR Toys Facebook fan page that "funding will be reached." Do you think that the third time's the charm, and that the Save Indie Spotlight campaign will succeed? Let us know in the comments section below.