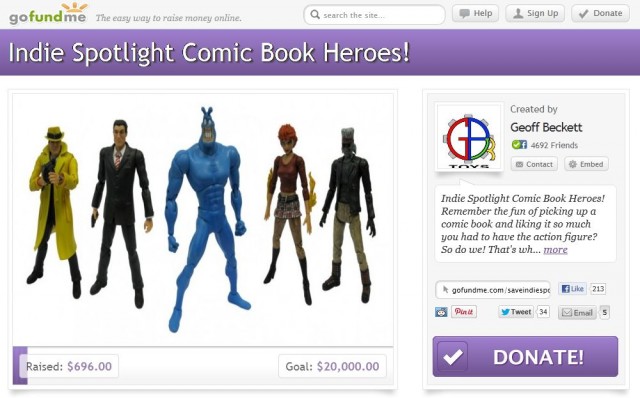 An old proverb suggests that "If at first you don't succeed, try, try, try again." Geoff Beckett of GBJR Toys has certainly taken that to heart. He's now on his third effort to utilize crowd funding to bring toys to the market. The current campaign to "Save Indie Spotlight" is on GoFundMe with a target of $20K, to be used to "produce a new run of the Series2 Indie Spotlight action figure line." If the campaign hits $30K, Beckett says he will produce an exclusive online campaign version of the Maxx as one of the campaign rewards. The campaign has been open for over 3 weeks, and in that time it's managed to raise over $700.
The current line-up for Indie Spotlight Series 2 consists of two versions of Dick Tracy, the Tick, Ignacia from Wildguard, and King Zombie from Deadworld. It omits Jack Staff, who was originally shown in with this line-up back in 2009. The Weird World of Jack Staff Facebook page, which has creator Paul Grist as the contact, claims that the GBJR / Shocker Toys license for Jack Staff expired a few years ago.
Beckett's two previous crowd funding campaigns from earlier this year did not meet their funding goals. The first campaign was for a line extension of DIY Plush Mallows. It was promoted on Kickstarter this past September, but missed its $9,850 target, raising only $583. The second campaign was taken down prematurely by Indiegogo. GBJR Toys claimed on its Facebook page that it was a victim of malicious lies from multiple sites, including TheFwoosh.com (full disclosure: I am part of the staff at the Fwoosh).
Continue reading "Geoff Beckett of GBJR Toys Wants You to Save Indie Spotlight – Should You?"