This is a sponsored post from Collector-ActionFigures.com. Thank you for supporting our sponsors! – Ron
There have been a lot of great Transformers figures this year, but when it comes to the one topping Christmas lists around the world, it's almost certainly Bruticus. DASH has already given away Masterpiece figures galore, so now we've set our sights on the kids and kids-at-heart of the world and decided to give away a pair of Bruticus figures. All it takes to win Bruticus #1 (The G2 Exclusive version) is to register on Collector-ActionFigures.com. Every new account on the site will count for one entry, so be sure to tell your friends and fellow collectors to sign up too.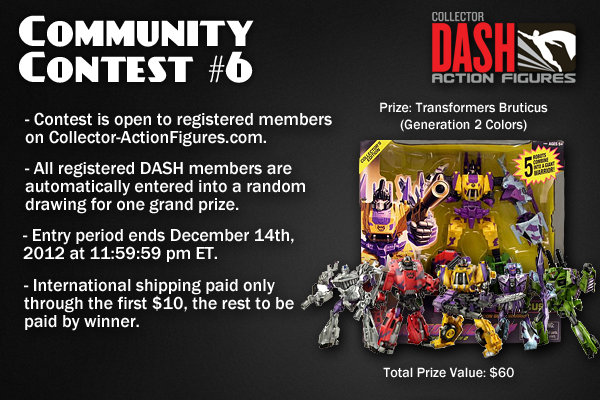 We're also giving away a brand new Fall of Cybertron Bruticus set to one lucky individual in the DASH Collector's Club. Just upgrade your membership to lock in your entry to win Bruticus #2. But you'll get more than just a chance at a cool figure. You'll also instantly gain access to the world's best action figure values, super-detailed collection reports, and full use of a cool mobile app for action figure collectors. And of course you should join the other 2300+ collectors who Like DASH on Facebook, where you'll gain access to many more contests and great promotions centering around Transformers and more in the toy world.
We want DASH to be the complete package, and we want you to open a great package or two this holiday season.
For complete contest rules and requirements, please email [email protected]