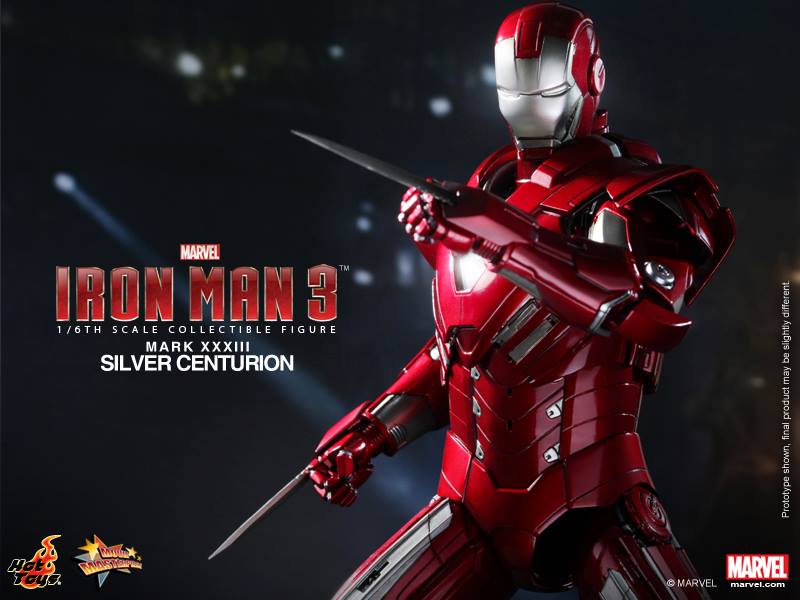 The design team for Iron Man 2 had given the nod to the Silver Centurion armor with the Mark V Suitcase Armor, with its red and silver color scheme. But Iron Man 3 went all the way, modeling the Mark XXXIII directly off of the Silver Centurion armor from the comics. It's still got the distinctive look of the movie armors, but with the coloring, the triangular arc reactor, and flared shoulders, it's the one that most closely resembles the comic look. I don't remember Stark in the armor, but I'll take Hot Toys' word for it and watch that fight sequence more closely when I see Iron Man 3 again. I'm not sure if the blades are from the comics, took inspiration from Wolverine (are you seeing that movie this weekend?) or just invented for the purposes of hacking limbs off of enemies for the movie.
Look to the usual suspects for pre-orders, but I would bet that Sideshow will have an exclusive version that includes that extra battle-damaged helmet.
Iron Man 3 – Silver Centurion (Mark XXXIII) Collectible Figurine

The 15th ACGHK is just one day away! For fans in Hong Kong, the special edition of the following collectible figurine is only available for pre-order during the event!

The Silver Centurion is a classic suit worn by Tony Stark in the Iron Man comics and has been a fan favorite since its debut. Marvel's Iron Man 3 has brought back this popular armor and restyled it to join the rest of the Iron Legion. During the intense battle between Tony Stark and Aldrich Killian, Tony quickly suits up in the Silver Centurion and cut of the Extremis mastermind's arm with the suit's hidden blade.

Hot Toys is delighted to introduce this amazingly designed armor – the 1/6th scale Silver Centurion (Mark XXIII) Collectible Figurine, the Enhanced Energy Suit to its Movie Masterpiece Series. It is specially crafted based on the image of Robert Downey Jr. as Silver Centurion in the movie, highlighting the detailed head sculpt, red and silver-colored armor, interchangeable battle damaged chest armor, forearm blades, and LED light-up functions.

Pre-order at Ani-Com:

Retail price: HK$1,580

(one (1) 1/6th scale Battle Damaged Mark XLII helmet is included as bonus accessory)
via Iron Man 3 – Silver Centurion (Mark XXXIII) Collectible Figurine.