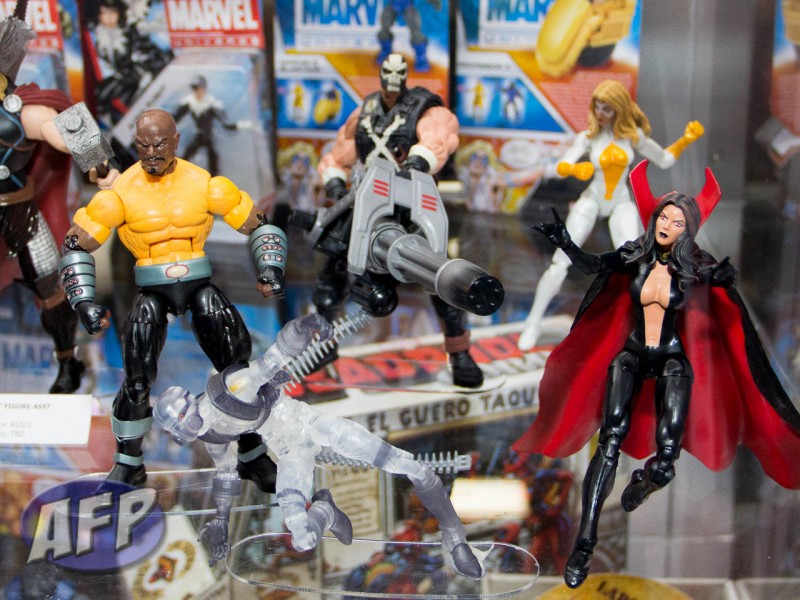 Hasbro has added some figures to its Marvel display since Preview Night, including its two exclusives – the Marvel Legends Thunderbolts set and the Marvel Universe Deadpool Taco Truck.
The Hasbro Marvel panel is late Saturday afternoon, so expect an Instapics update in the early evening.
On the 6-inch front, Radioactive Man was there on Preview Night, but I wasn't happy with the close-up picture I took. I hate to admit that I don't know the bug-eyed figure that was added to the Spider-Man display. And finally, I'm totally psyched for the Thunderbolts set. Given that we're going to be getting more of the T-bolts in the Jubilee BAF wave (thanks to those of you who pointed that out to me), it's a good time to be a fan of the bad guys forced to be good guys.
The next wave of Marvel Universe will include Alpha Flight's Northstar and Aurora sharing a card, much like Abomination and A-bomb in the wave that precedes it. Nightcrawler, Omega Red, and the Black Knight round out the wave, which is still TBD as far as timing is concerned.
Would you guys be interested in the Marvel Universe Deadpool Taco Truck as a Free Stuff giveaway? Let me know!