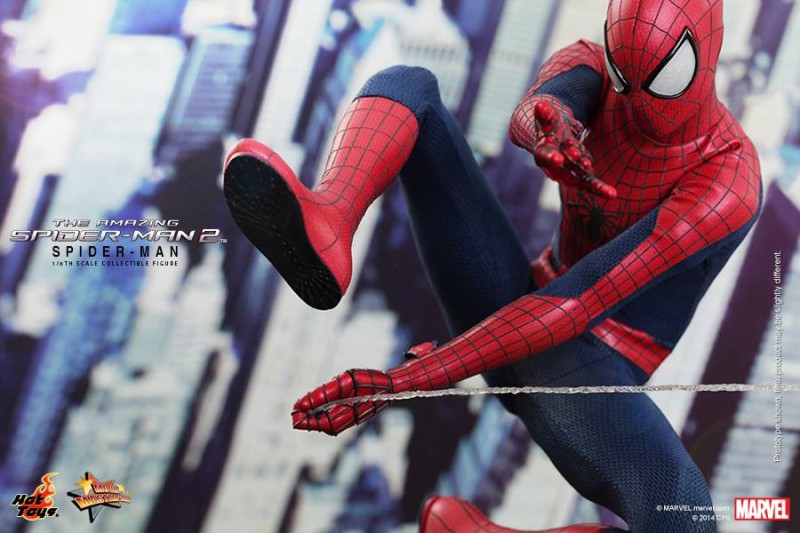 We're a couple of weeks away from the opening of The Amazing Spider-Man 2, and Hot Toys has revealed the first of its figures from the sequel to the reboot. This may be the first Spidey figure I've gotten from them – I'm still debating whether I like the Tobey Maguire version or the Andrew Garfield version better, but as far as the suits are concerned, this latest iteration is my favorite. Aside from the texture (which I can accept as a real-world interpretation), the darker blue color, and the long legs on the Spidey symbol, it's the closest to the comics as it's ever been.
Now, not having kept up with all the movie news, I'm not sure where the extra accessories fit in, but a bullhorn, parka, backpack, and knit hat don't seem that exciting to me. I'm surprised they're not including an unmasked head – but that might just mean another version (battle-damaged?) is in the works. If accessories are your thing, there's an exclusive Plutonium canister – I am guessing that Sideshow will have this, even though my search for Spider-Man at Sideshow doesn't have this figure listed yet. It soon should be.
The Amazing Spider-Man 2: Spider-Man Collectible Figure

The amazing Spider-Man is swinging back onto the silver screen this season! It is great to be Spider-Man, but it also comes at a big price and Spider-Man will find his greatest battle is just about to begin!

In anticipation to The Amazing Spider-Man 2 hitting the theatres, Hot Toys is excited to introduce the new 1/6th scale Spider-Man Collectible Figure. The movie-accurate Spider-Man collectible is specially crafted based on the image of Spider-Man in the film. It features a newly developed Spider-Man suit, highly detailed accessories, and figure stand with flexible pillar for dynamic posing. A special edition that is available for selected markets will include an additional 1/6th scale plutonium canister and a specially designed Spider-Man artwork cover for dynamic figure stand.

Fans of Spider-Man don't miss this!