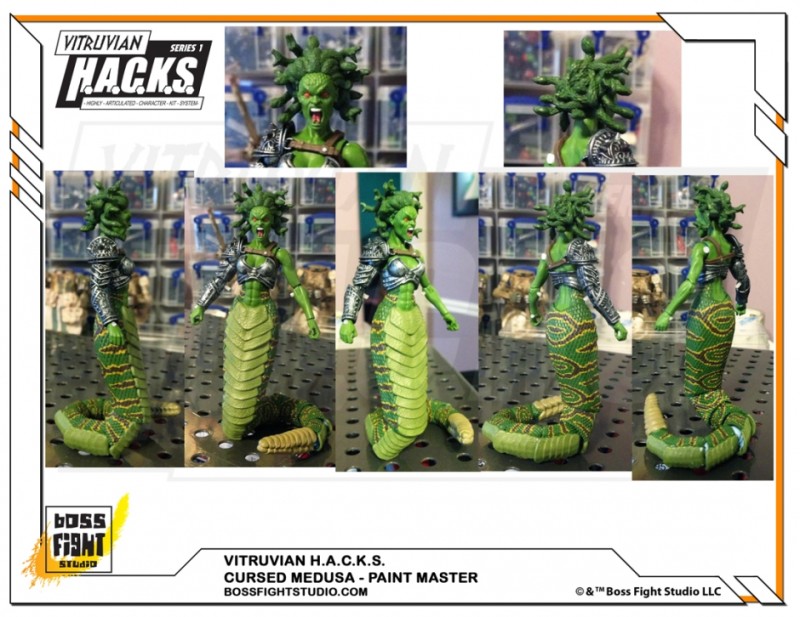 Boss Fight Studio, the design and sculpting group behind the recently over-funded Marauder Task Force Gaming Figures project, is getting ready to launch their own 4-inch action figures on Kickstarter. While the Marauder Task Force focused on the military genre and plans to expand into science fiction and superheros, Boss Fight Studio's Vitruvian H.A.C.K.S. starts out in the fantasy genre with Greek warriors vs. the Gorgons, and plans to expand into other fantasy genres as well as outer space.
H.A.C.K.S. aspires to be more than an ordinary action figure line – Boss Fight Studio plans the line to be a system for easy army building and customizing. The name may evoke the combat you'll be waging between the Greeks and the Gorgons, but officially it stands for "Highly Articulated Character Kit System." And don't make the mistake of thinking the name somehow besmirches the capabilities of the five principals of Boss Fight Studio; the three designers and two sculptors (one of them is our long-time pal, Doubledealer) are no hacks – they cut their teeth working at Hasbro on the big brands – G.I. JOE, Marvel, Star Wars, and more.
The Vitruvian H.A.C.K.S. campaign is currently being reviewed by Kickstarter and is anticipated to get the green light any day now. There's an awesome amount of figures and stretch goals planned – with the success of the Marauders campaign (they raised nearly $250K with an initial goal of $30K), we're hoping this project crushes its funding targets to unlock those stretches. We'll let you know as soon as it goes live. Stay tuned!