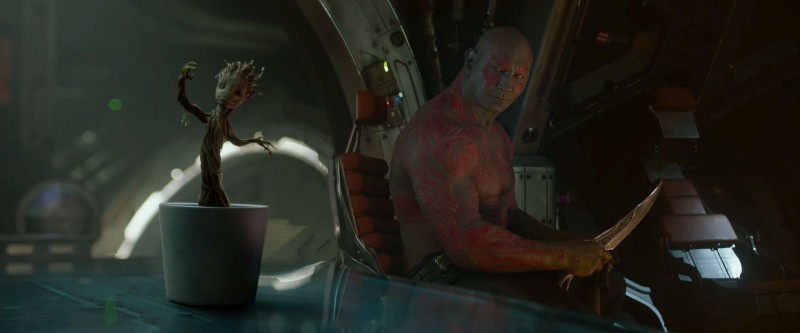 If you have NOT seen the Guardians of the Galaxy movie, here is the required SPOILER ALERT… and please note that for future reference we have added you to our List of Raccoon and Tree Haters. Now, if you have seen this fantastic film, then you know that the credits include an awesome scene that's spawned a slew of animated GIFs and the opportunity for the cutest product tie-in ever.
First, let us present the Dancing Groot:
See Groot get his groove on in this clip from Marvel's "Guardians of the Galaxy," in theaters now!

Get your tickets for Guardians of the Galaxy now: http://fandan.co/1thBrQi
via Marvel's Guardians of the Galaxy – Dancing Groot – YouTube.
Now, while this absolutely screams for something we could buy for the dashboard of our spaceship, it wasn't until the movie had been open for a few weeks before Funko revealed the first official Dancing Groot toy.
It's real! The first official Dancing Groot toy, from the amazing folks at @OriginalFunko! #GuardiansOfTheGalaxypic.twitter.com/I5xNdgE0H8

— Ryan Penagos (@AgentM) August 22, 2014
[Update: Entertainment Earth now has the Funko Dancing Groot up for pre-order – Ron]
Now, if you are looking for something that does more than the head bob, there is a DIY tutorial for making one. This is one very clever idea, and I may just have to try it… it would make a great gift for a certain raccoon-loving AFP colleague, if I can find a movin' groovin' flower ipod speaker on eBay for less than a couple hundred bucks. (No such luck, but there are alternatives if you are willing to brave shopping for flower speakers through China's Aliexpress.)
So maybe there will be a sequel showing the results in another future post… maybe 😉
Til then, here's the HOW TO link if you want to try it: http://www.cnet.com/news/diy-baby-groot-will-dance-into-your-heart/
"I am Groot."
I made this using a "Movin' & Groovin'" flower I got from eBay, cut off the dumb daisy, and covered the stem on felt and twine. My fiancee sculpted the head from Model Magic. We then painted everything with brown and tan paint. He can now dance to Peter Quill's "Awesome Mix"… or to my own mix.

Progress photos on my cosplay Facebook page at: http://on.fb.me/1oH6Hzs

I'm on Twitter at http://twitter.com/PDelahanty
via Dancing Baby Groot – YouTube.
PS – If you stayed to the very end of the credits and to the end of this post, then you know about this guy too! Oops… SPOILER ALERT!