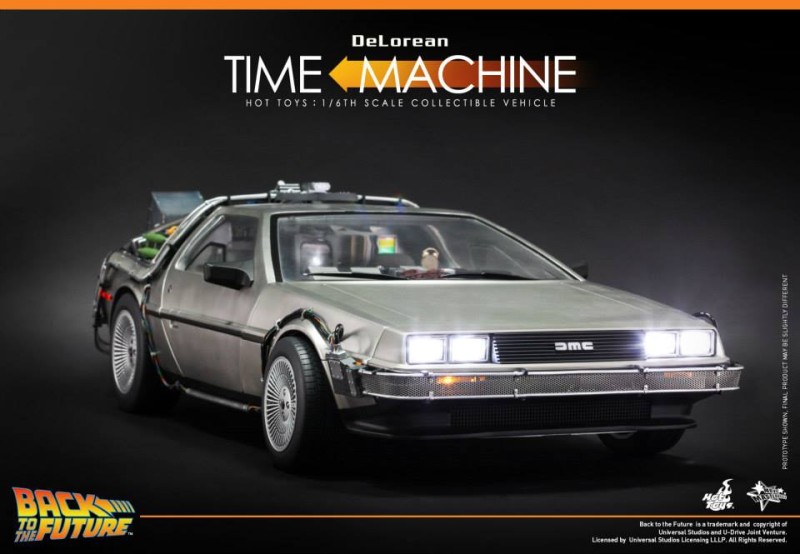 It'll take more than the Power of Love to get this time machine into my collection. It's not that it's not the most awesome representation of the DeLorean from Back to the Future that exists (it's too close to call versus the incredible Lego Time Machine) – it's just that at 1/6 scale, the missus would never allow it. If only I could go to the future, pick up a sports almanac, and place some winning bets, all so I could afford a bigger house… nah, I'd probably end up stuck in the Old West!
Not limited by time, space, or money? You can pre-order the Back to the Future DeLorean Time Machine at Sideshow. Oh yeah – Marty McFly too. And if you can't get enough of the Hot Toys DeLorean, see more of it in our Hot Toys album from SDCC 2014. 1.21 gigawatts!
Back to the Future: 1/6th scale DeLorean Time Machine Collectible

"Are you telling me that you built a time machine… out of a DeLorean?"

Since the debut of the Hot Toys Back To the Future Marty McFly Collectible Figure this year, many fans were extremely excited about the news and filled with joy especially after seeing the prototype of the figure along with the iconic DeLorean Time Machine shown at various toy fairs this Summer. Today Hot Toys is delighted to officially introduce the 1/6th scale DeLorean Time Machine Collectible Vehicle for all Back to the Future fanatics!

The movie-accurate DeLorean Time Machine collectible vehicle is very detailed and specially crafted based on the film, featuring a meticulously crafted exterior with cable wires across body, detailed structure of the time machine engine deck and cabin, functional gull-wing doors, and a number of LED light-up functions on the exterior and interior.

Fans of this best time-travelling film of all time should not miss the chance to pre-order this incredible collectible and add it to your prized collection!
via Back to the Future: 1/6th scale DeLorean Time Machine Collectible.