I'm overdue on posting this look at Kasual Friday's Big Screen and Comic Book Superstars. Our long-time pal Scott George sent them to us right before the holidays. Scott launched KasFri a few years ago, after a successful run at Hasbro overseeing Marvel Legends and Marvel Universe. With his experience with licensed properties and toys, Scott picked up licenses for mini-figures and apparel for some of the mainstay pop culture brands – wave 2 and 2.5 of Superstars covers Rocky, Robocop, the Phantom, and Evil Dead.
For mint-on-card collectors, the Superstars packaging offers a clear view at each of the figures. The cardbacks have nice clean graphics. In the case of Rocky, they offer a look at other figures in the wave, while for others they may show related apparel. Since I like to open my toys, I appreciated that these were simple to open, and there were no twist ties involved.
It's an interesting collection of licenses that definitely appeals to those of us that spent our formative years in the 80s and 90s. Evil Dead / Army of Darkness and Robocop have massive cult followings, and despite having bigger budgeted remakes in recent years, the originals still outshine what followed them.
The Phantom is my favorite of this bunch, despite being the most obscure – he developed his largest following during his pulp and newpaper strip days (my father-in-law was a huge fan), and his movie in the mid-90s didn't quite develop the same following as the other two properties. However, his spandex suit offers the best look at the exaggerated musculature of this type of figure, and the small features like his Skull Ring show off KasFri's attention to detail.
The Rocky figures are even better suited for this minifigure approach, with this quartet of muscle-bound brawlers with attitudes to match. Rocky, Apollo Creed, Clubber Lang, and Ivan Drago span three Rocky movies – Rockies 2, 3, and 4.
Rocky and Clubber each have two variants. In addition to the red, white, and blue shown here, Rocky has a yellow trunks version, while Clubber has a blue trunks variant – so you can choose to have either Clubber (yay!) or Rocky (boo!) victorious. Sorry, Apollo – you don't have a variant in which you beat Drago…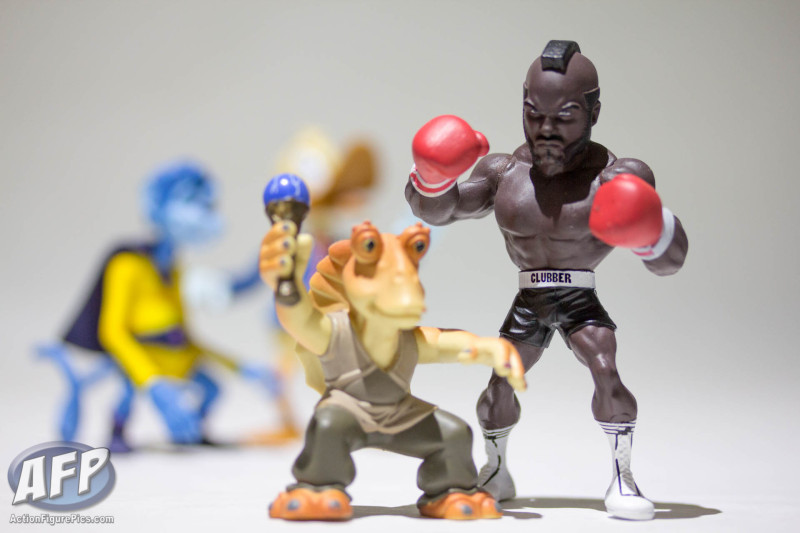 I don't think I can hide that I've fallen in love with this little Clubber Lang. He's got the perfect menacing look to knock that dumb expression off the Italian Stallion's face, and I've been giving him some exhibition bouts versus my wife's minifigures. While I'm enjoying this immensely, I've got to admit she's a bit tired of me yelling "I'm gonna bust you up!" at Jar Jar Binks, Anakin Skywalker, Captain Jack Sparrow, and many more chumps in her collection.
You can pick up Kasual Friday's Superstars at Entertainment Earth, BigBadToyStore, Amazon, Kasual Friday's own website, and more. And stay tuned for a Free Stuff giveaway of a pair of Superstars – Rocky and Clubber Lang.