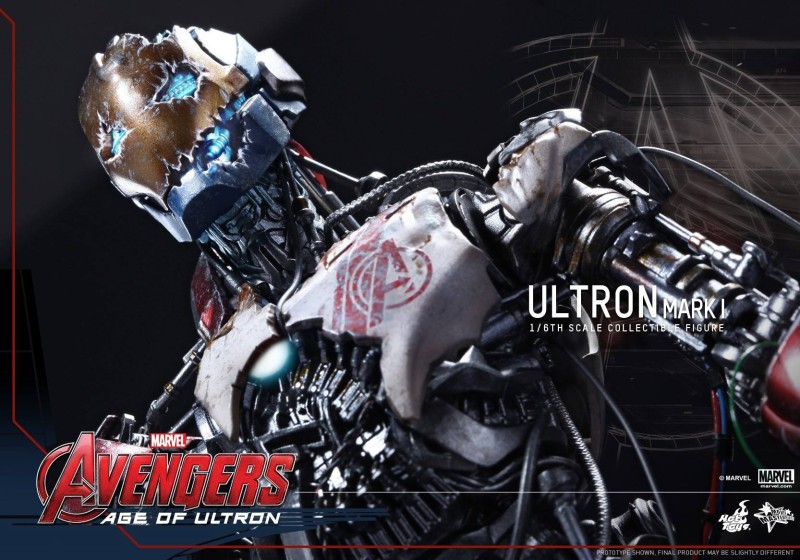 We first saw the Ultron Mark I figure when Hot Toys teased us with a pic from their tour in Asia showing the evolution of Ultron near the start of the month. Now, with Avengers: Age of Ultron opening this weekend internationally, they've released the details for their latest version of Ultron, which happens to be Tony Stark's first step in creating the misguided artificial intelligence.
The Mark I is packed with a crazy amount of detail revealed by the battle damage it suffered at the hands of some as of yet unknown Avengers enemy, but that doesn't stop it from coming with working LEDs in all the places you'd expect (eyes, mouth, and ARC reactor). One of the accessories that comes with the figure gives another clue as to how Ultron comes into being – if you've watched any of the trailers it's all pretty much laid out, but if not, don't read the attached description too closely.
I'll be checking Sideshow Collectibles for the incoming pre-order.
Avengers: AOU 1/6th scale Ultron Mark I Collectible Figure

"You're all puppets, tangled in strings…strings." The much anticipated Marvel's Avengers: Age of Ultron will soon hit theatres worldwide, Hot Toys is excited to continue the waves of highly detailed and movie accurate collectible figures from this super blockbuster. In addition to the return of Earth's mightiest heroes in this sequel, the titular villain Ultron has been a widely discussed character among fans!

Today, Hot Toys is thrilled to present the Artificial Intelligence that has gone rogue and threaten human existence in the latest movie – the 1/6th scale Ultron Mark I scale Collectible Figure!

The movie-accurate Collectible Figure is specially crafted based on the image of Ultron Mark I in Avengers: Age of Ultron. It features a newly developed asymmetrical body with complicated mechanical details and cable wires throughout different parts, LED light-up eyes, mouth, and chest reactor, a damaged Iron Legion as an accessory, and a specially designed figure stand!

Expand your Avengers: Age of Ultron collection with this menacing villain!
via Avengers: AOU 1/6th scale Ultron Mark I Collectible Figure.