S.H. Figuarts Super Mario line adds Fire Mario variant, Koopa Troopa, Bullet Bill, and more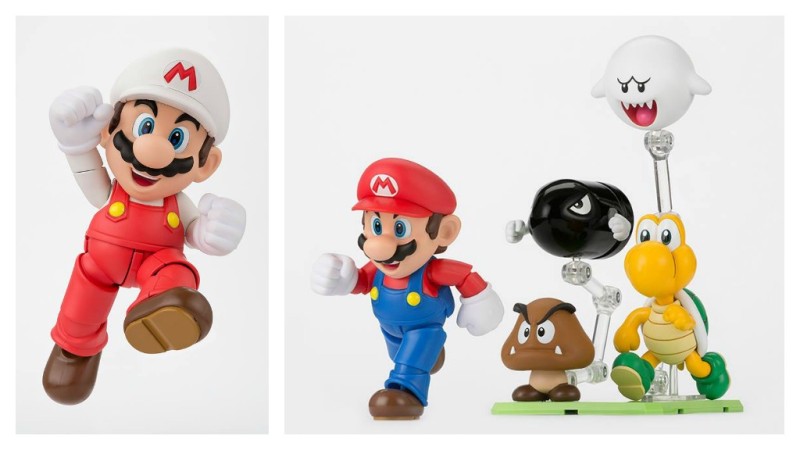 Bandai Tamashii Nations is continuing to add to their S.H. Figuarts Super Mario line, which currently has the titular character, his brother Luigi, and three diorama play sets. Coming later this year are a new Fire Mario variant, as he appears when powered up by the Fire Flower, and a diorama play set that could have been entitled "Bring on the Bad Guys."
Fire Mario fittingly comes with a Fire Flower, a few interchangeable hands, fireball, and a stand with a clear support rod. The bad guys set includes a Koopa Troopa, Bullet Bill, Boo, and a re-issue of the Goomba that came with some of the earlier dioramas. There's also a stand with a few clear support rods.
S.H. Figuarts Fire Mario

Tamashii Nations is bringing out the fire power with this hot addition to the popular S.H.Figuarts Super Mario family. Introducing the powered up Fire Mario!! Of course, Fire Mario comes complete with a fabulously detailed Fire Flower and flaming ball of fire effect piece that look like they just came out of the game. Set also includes interchangeable hands (x3), separate supports for Fire Mario, the Fire Flower and fire ball, and display stage.
S.H. Figuarts Diorama Play Set D

What's a video game without some villains? From Tamashii Nations comes the perfectly villainous (and dare we say adorable) Diorama Play Set D from the S.H.Figuarts Super Mario line. Avoid the Koopa Troopa! Evade the Goomba! Outsmart Boo! Run from Bullet Bill! If you can… Take your Mario collection to the next level. Set also includes 3 support posts and a display base.
via S.H. Figuarts Diorama Play Set D.
I've been able to resist this line so far, but all the current S.H Figuarts Super Mario sets are being discounted at Amazon. Bandai hasn't set the price or exact timing for the new sets yet, but with more bad guys on the way, it seems like this might be a good time to jump in. Now, if they make a Wario, I'm pretty much done.