Sale coincides with launch of Mortal Kombat X video game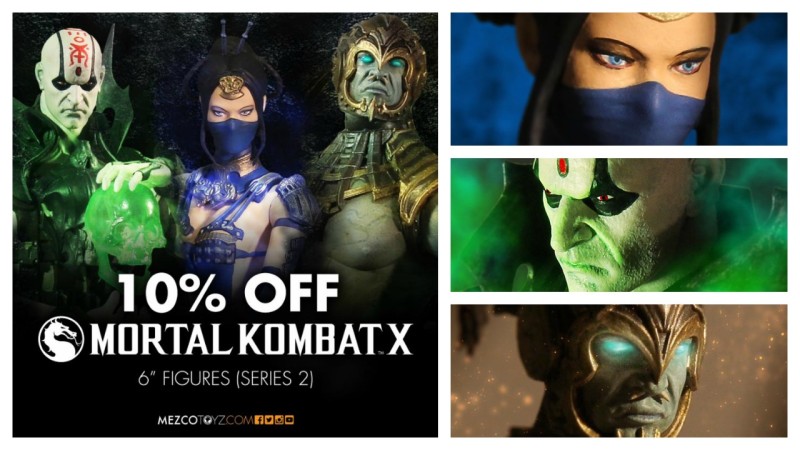 To celebrate the release today of the new Mortal Kombat X video game, Mezco is offering 10% off on pre-orders of their newly-announced Mortal Kombat X Series 2 6-inch action figure sets. The second series of Mortal Kombat X figures includes fan-favorite (haha!) Kitana, the malevolent Quan Chi, and newcomer Kotal Kahn.
Mezco will be making the figures available for pre-order starting at 10AM EST at the Mezco Toyz website, and for today only, they'll be 10% off the regular price! If you haven't already, you'll also be able to pre-order Sub-Zero, Scorpion, and Raiden from Mortal Kombat X Series 1.
Note: Our email digests are sent out once a day (we don't want to clog your inbox when we post more than that), and some subscribers can miss out on these one day only sales. Please consider following AFP on Facebook, Google+, and Twitter for more timely updates. Flawless victory!
Here's some teasers that Mezco shared of the three figures in Mortal Kombat X Series 2 on the MezcoToyz Instagram:
Mezco Presents Mortal Kombat X- One Day Sales Event

New York- To celebrate the release of the Mortal Kombat X video game, Mezco is offering 10 % off on pre-orders of their newly announced Mortal Kombat X Series 2 Action Figure sets. Order a set at

http://www.mezcotoyz.com/brands/mortal-kombat-x starting at 10AM on 4/14/2015 for 10% off the regular price.

Mortal Kombat is one of the most successful and influential video game franchises ever created. Having celebrated over two decades of success and with nine games in its legacy and an all new next gen platform game being released on Tuesday 4/14, the Mortal Kombat brand is a top rated and earning game brand that is a fan favorite. With gamer anticipation at a record high, millions of units of the game have already been pre-sold.

Amidst this whirlwind of excitement and anticipation, Mezco reveals their Mortal Kombat X Series 2 action figures:

Quan Chi
Kotal Kahn
Kitana

Each 6-inch scale version features more than 17 points of articulation, many with ball joints, allowing them to recreate all the moves and poses that have made them part of gaming legend. Each also comes complete with game specific accessories.
In addition to series 2, Mezco also has additional figures and plush Mortal Kombat X items available at http://www.mezcotoyz.com/brands/mortal-kombat-x

Follow Mezco on

Facebook – https://www.facebook.com/MezcoToyz
and Twitter – https://twitter.com/mezcotoyz