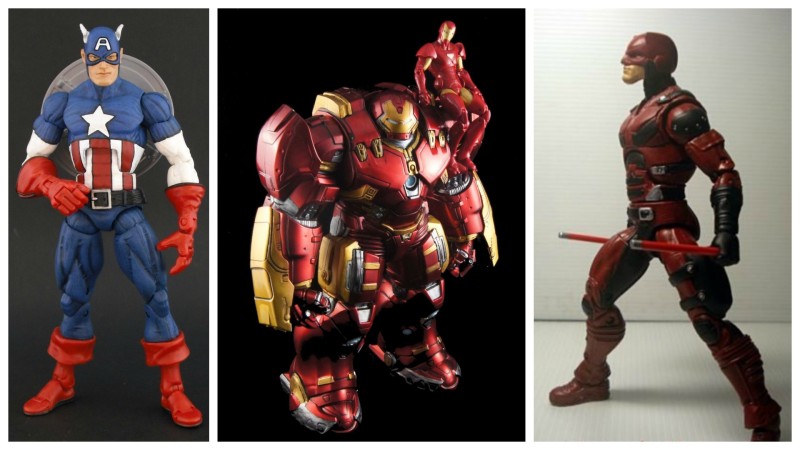 For this edition of Border Patrol, we're highlighting three iconic Marvel superheroes:
Marvel Legends Captain America by Shinobitron: This may be a simple kitbash using parts from the original Toy Biz Captain America with a more recent Cap re-release from Hasbro, but the clean paint job makes it exceptional. I am usually not a fan of that Hasbro body without the vest (see the original ML Drax) but with the Toy Biz head and gloves, it works well proportionally. Ends Sunday, May 24 at 7:57PM PST.
Marvel Legends Hulkbuster Iron Man by wilestbilame: The onslaught of Hulkbuster repaints using the Titan Heroes version has begun. This one is the first I've seen that shows another ML Iron Man (in this case Extremis) for scale – Hulkbuster is huge! Ends today at 8:14PM PST.
Here's another ML Hulkbuster Iron Man that ends Thursday, May 21 at 5:17PM PST.
Marvel Legends Netflix Daredevil (red suit) by JLA: We've seen a few customs of the black suit (which I ended up preferring over this one), and now customizers have come up with recipes for the Gladiator-built suit revealed in the Netflix season 1 finale. Ends Wednesday, May 20 at 10:15PM PST.
Here's another Netflix Daredevil that ends Thursday, May 21 at 4:56AM PST.
In AFP's Border Patrol, we scour active eBay auctions for customized action figures that you won't want to let slip by!