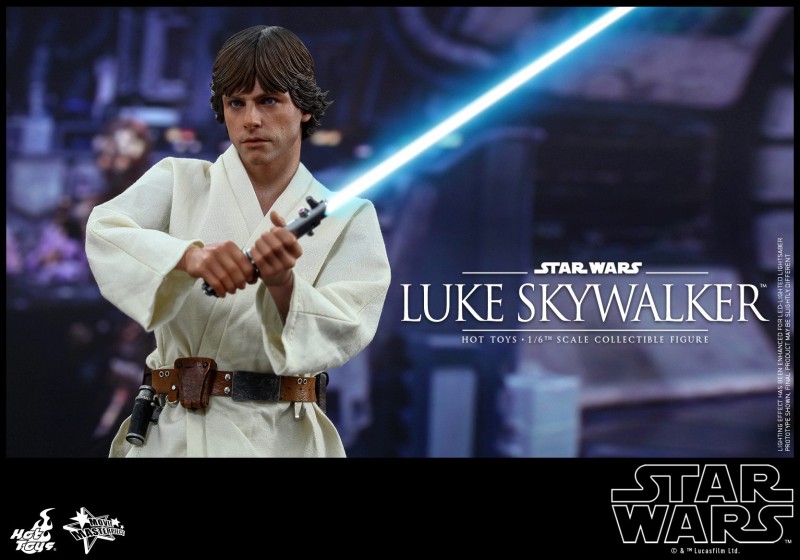 Maybe I need a #footlongfriday hashtag. Earlier today we had two Mortal Kombat 1/6 scale reveals from WorldBox and Mezco, and here we are with the latest Hot Toys announcement for Star Wars. Previously, they had teased the Skywalker twins, Luke and Leia. Standard operating procedure for the Hot Toys tease is to not show off the head sculpt – and with such iconic characters you end up wondering how well they can capture their likenesses.
In Luke's case, I think the Mark Hamill likeness is close enough to bullseye womp rats in your T-16 back home. As you'd expect from Hot Toys, Skywalker comes with a ton of accessories, arguably most importantly an LED-lighted lightsaber. (You could argue that a separate hairpiece just to accommodate that wide-brimmed gardening hat is a bit much.) You should be able to pre-order the exclusive version of the Hot Toys Luke Skywalker from Sideshow Collectibles – it will come with a Stormtrooper belt with grappling hook, communicator, and blaster rifle. Awkward sister-kissing sold separately.
Star Wars ANH 1/6th scale Luke Skywalker Collectible Figure

"I'm Luke Skywalker. I'm here to rescue you." – Luke Skywalker

Originally just a moisture farmer on the planet Tatooine, the young Luke Skywalker's life began to change forever when he purchased two droids, R2-D2 and C-3PO, and met the Jedi Master Obi-Wan Kenobi, the infamous smugglers Han Solo, Chewbacca, and Princess Leia! Luke's actions helped change the fate of the galaxy by assisting the Rebel Alliance against the Galactic Empire and destroying the terrifying Death Star.

Today, Hot Toys is very excited to officially reveal the collectible figure of the central character in the original Star Wars trilogy – the 1/6th scale Luke Skywalker Collectible Figure from Star Wars: Episode IV A New Hope!

The movie-accurate collectible figure is specially crafted based on the image of Mark Hamill as Luke Skywalker in the film featuring a newly developed head sculpt, specially tailored costume, LED-lighted lightsaber, a hat with goggles, a poncho, detailed accessories, and a figure stand. A special edition is available in selected markets which include an additional Stormtrooper belt with grappling hook, a communicator, and a blaster rifle.

Your Star Wars collection wouldn't be complete without this Luke Skywalker collectible figure.
Source: Star Wars ANH 1/6th scale Luke Skywalker Collectible Figure