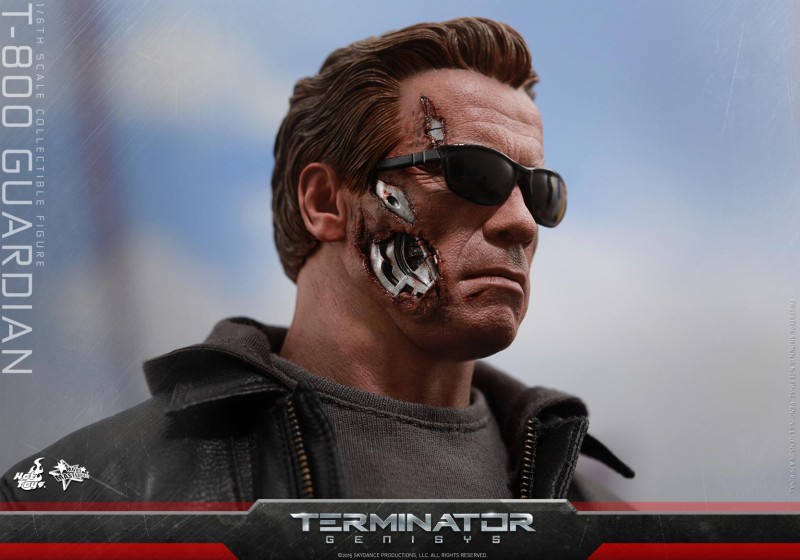 To be fair, he did warn us that he'd be back. Ahhhnold is back in the titular role once again in Terminator: Genisys, opening today (get your Terminator Genisys tickets from Fandango.)
And Hot Toys is back too, with the "Old Man Arnold" T-800 Guardian figure. It's a little light on accessories, featuring sunglasses, a shotgun, and a few sets of hands, but it does come with two head sculpts – one an unblemished, yet aged Ahhhnold, and the other with battle-damage that shows us that yes, this is once again a different Terminator, because the endoskeleton is showing through in different places this time around. You can pre-order the Terminator T-800 Guardian Sixth Scale Figure from Sideshow Collectibles.
You seeing the movie this weekend? Come with me if you want to live.
Terminator Genisys 1/6th scale T-800 Guardian Collectible Figure

He is back. Arnold Schwarzenegger is returning to the big screen again as the iconic Terminator in Terminator Genisys.

In the new installment of The Terminator series, John Connor, leader of the human resistance against Skynet, sends Kyle Reese back to 1984 to protect his mother, Sarah Conner, from a Terminator assassin, an unexpected turn of events creates an altered timeline. Instead of a scared waitress, Sarah is a skilled fighter and has a Terminator guardian by her side. Faced with unlikely allies and dangerous new enemies, Reese sets out on an unexpected new mission to reset the future.

To celebrate the launch of this upcoming movie, Hot Toys is pleased to present the 1/6th scale T-800 Guardian Collectible Figure from Terminator Genisys.

The T-800 Guardian collectible is specially crafted based on the image of Arnold Schwarzenegger from the movie. It features two newly developed head sculpts, leather-like jacket licensed by the oldest British brand of motorcycles and clothing – Matchless London, detailed weapon and a LED light-up figure base.

#Terminator fans don't pass up on the opportunity to add this new T-800 Guardian to your collection.
Source: Terminator Genisys 1/6th scale T-800 Guardian Collectible Figure