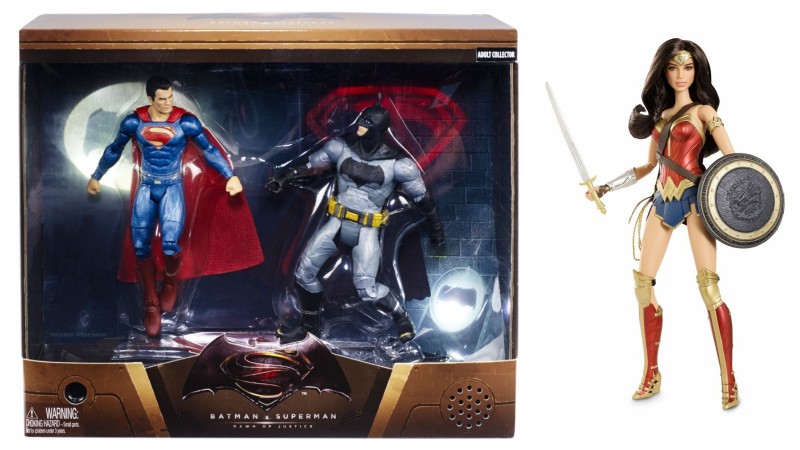 Back when Mattel announced their Mattycollector exclusives for SDCC, many of us were surprised that they didn't have any DC-related exclusives to show us. Surely, with Batman vs Superman: Dawn of Justice being promoted heavily, they wouldn't miss out on that. Surely not. USA Today had the exclusive reveal today of Mattel's BvS offerings for Comic-Con and beyond. For sale at the show, they'll have a 2-pack of Batman vs Superman (natch!) in 6-inch scale and a Hot Wheels Batmobile, both from the upcoming movie. At $30, the 2-pack is well-priced for two 6-inchers, but I wonder if it's indicative of what we'll see for DC products from Mattel after the Four Horsemen era.
And for display, they'll have a Wonder Woman Barbie based on Gal Gadot's character from BvS, and a life-sized Hot Wheels Twin Mill car with graphics inspired from the movie. The Barbie and diecast toy version of the BvS Twin Mill will be available next spring as part of two new BvS product lines. I'll admit, I do wonder what the Barbie versions of Henry Cavill and Ben Affleck will look like.
Mattel is selling a movie-inspired BvS two-pack ($30) with the likeness of Henry Cavill's Superman and Ben Affleck's Batman. Each of the 6-inch-tall figures comes with fabric capes, display bases that combine to form the film's iconic logo, and lights-and-sounds packaging teasing one of the big moments from the upcoming movie.

Fans of the Batfleck's new Batmobile can also pick up a Hot Wheels edition ($25) of the superhero ride, featuring a die-cast chassis and body, rubber tires and neato machine guns and missile launchers — all encased in limited-edition packaging.

Mattel has a new Barbie line coming in the spring, and at their booth the company is showcasing a doll based on actress Gal Gadot's Wonder Woman from Dawn of Justice. Standing 12 inches tall and featuring a sword, shield, tiara, bulletproof bracelets and her signature lasso of truth, Wonder Woman is part of the Barbie movie collection along with Superman and Batman.

And the Mattel booth is slated to display a life-sized Hot Wheels build of a Batman v Superman Twin Mill car designed to celebrate the film. Graphics on the car are inspired from the film suits of both heroes, and a die-cast toy version of the vehicle will be on sale in the spring as part of a movie-inspired Hot Wheels line.