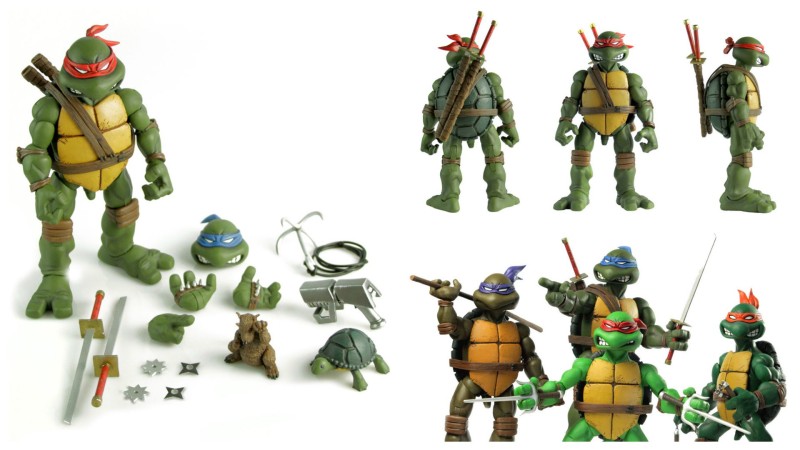 What a coincidence – with Mondo's Masters of the Universe 1/6 scale teaser, I found myself wondering when they would open up the pre-orders for their TMNT Leonardo, which I've been waiting for since seeing them at Comic-Con. They obliged with the answer – this Thursday!
Here's where it gets interesting. There will be three offerings. First, a general release for $149.99 (great price!) that includes Leo with a bunch of accessories. Second, an exclusive limited for $159.99 to 500 pieces that includes everything, plus Shredder's gauntlet from the first issue of the original Mirage comic book.
And finally, a TMNT subscription that will include the exclusive versions of Leo and the three remaining Turtles. Mondo anticipates the pre-orders to be spaced a month apart. For committing to all four Turtles, the cost drops back down to $149.99, for a total of $599.96 (in installments). The rub is that these will be limited to 200 subscriptions. The pre-orders will open up this Thursday, August 27. Better get there early!
Teenage Mutant Ninja Turtles: Leonardo 1/6 Scale Collectible Figure!

We're incredibly proud to introduce Leonardo, the first in our line of 1/6 Scale Teenage Mutant Ninja Collectible Figures, available for Pre-Order this Thursday! Based on the original Eastman & Laird comic book, and drawing inspiration from the the classic cartoon, the figure features 25+ points of articulation and interchangeable hands, with weapons & accessories taken right from the pages of the comic book, available for $149.99.

In addition to the colored masks featured in the cartoon, each figure will come with interchangeable heads to portray the original Red-Masked heroes from the comic.

Accessories Include:

Classic Comic Red Mask Head Cartoon Blue Mask Head
Dual Katana and Scabbards
1 set of C-Grip Hands
1 set of Climbing Claw Hands
Unique "Pointing Finger of Leadership" Hand
2 Four-Point Shuriken
2 Eight-Point Shuriken
Grappling Hook and Cord
Utrom Blaster
Belt with Scabbard Straps
Pre-Mutation Splinter
Pre-Mutation Baby Leonardo

Limited to 500, the Mondo Exclusive version will also include Shredder's Destroyed Gauntlet from TMNT Issue #1, shown below! The price of the exclusive is $159.99.

We're also excited to offer a TMNT Subscription (limited to 200), which includes the Mondo Exclusive, limited edition version of all four Teenage Mutant Ninja Turtles. You will be charged the full amount of each figure (with a $10 discount on each) at the time each becomes available for Pre-Order. We'll will notify you a week before each charge, but once you sign up for this subscription, you won't need to do anything else! The order of figures is as follows – Leonardo, Donatello, Michelangelo, and Raphael, each approximately a month apart.

In addition to receiving all four Mondo Exclusive TMNT figures, once the final Turtle figure ships, you will receive an exclusive screen printed TMNT poster by Jason Edmiston at no additional cost. The cost of the subscription is four payments of $149.99 (a total of $599.96).

The Pre-Order will go live this Thursday (8/27). Full product and Pre-Order information will be released later this week, along with more behind-the-scenes looks at the making of the Turtles.
Source: Teenage Mutant Ninja Turtles: Leonardo 1/6 Scale Collectible Figure! – Mondo