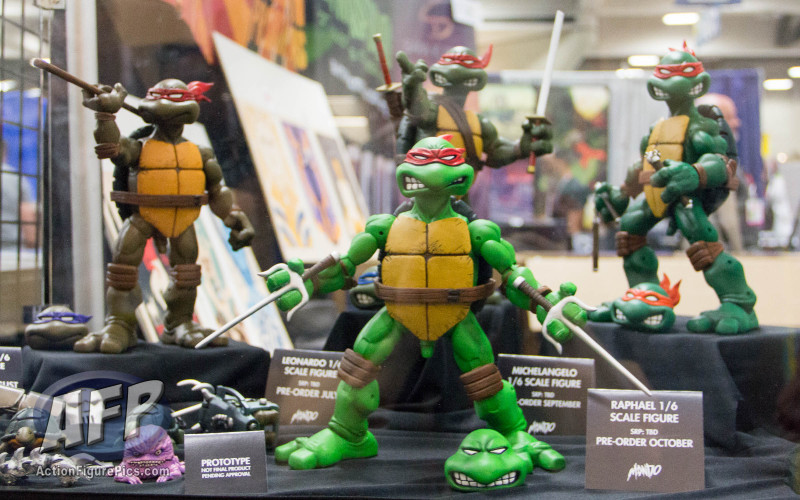 I didn't know much about Mondo for long before Comic-Con – their foray into figures had been limited to a much-favored Iron Giant figure, but it's been mired in production complications and delayed. I think their upcoming foray into 1/6 scale Teenage Mutant Ninja Turtles will shine an even bigger spotlight on them. From this first look at the prototypes, I think they've nailed the designs and how to put together a compelling package – and the more simplified (and reusable) sculpts, compared to the Iron Giant, will make the TMNT line a much smoother production.
My first thoughts looking at them were at how eerily similar they look like NECA's TMNT line from a few years back. That seemed odd on first thought – when new companies pick up previously held licenses, they often like to put their own distinctive look on the brand. (For example, consider the transition of Street Fighter from SOTA Toys to NECA.) But as I considered this more, I realized that NECA did as faithful a translation of the Turtles from the pages of the comics to 3D form; Mondo has done the same. And they look fantastic.
My only nit is how the all the straps of their masks seem to fly up in defiance of gravity. I might have to look at some old Mirage comics to see if that's just how they always looked on the page.
You may have noticed that the Turtles are pictured with their comics-based red masks and alternate cartoon-colored masks. Mondo's license covers both, and they intend to give us swappable heads for more value to us, as opposed to milking the line with comics then cartoon Turtles variants. Of course, Raphael has a red mask in both the comics and the cartoons, so he gets an unmasked head. Maybe someone can find a 1/6 scale turtle-shell-fitting trenchcoat and an appropriately anthropomorphic turtle-sized hat for us to put on him for the complete unmasked look.
Mondo is also making a Mouser 2-pack, which should go up for pre-order in September. A funny story – they had a discussion with Nickelodeon, who asked if the Mousers really needed little mice to eat. I am glad Mondo fought to keep them.
The little accessories are some extras that you may see in package with each of the Turtles. Mondo told me they are looking to really provide a lot of value with each Turtle – so you'll also be seeing interchangeable hands, the aforementioned swappable heads, these accessories, and perhaps more. They also want to keep the price relatively low. One of the Mondo people said around $150, which would be pretty damn cool. The others said they didn't know, so I am hoping that the $150 quote was from someone who did, because he's in charge…
I also think the those side pieces may be hints of who is coming next. Since the license is pretty broad, Mondo intends to go as deep as they can. They're committed to the Turtles first, but Shredder and Casey Jones have some pieces there. And then there's April, Foot Soldiers, Baxter Stockman… I think my wallet just cried out in pain.
And speaking of Casey, Mondo had a 1:1 scale Casey Jones mask on display. BEST COSPLAY ACCESSORY EVER.
Leo should go up for pre-order this month, and the plan is to have a pre-order for another turtle for the next three months. Optimistically, Mondo said the Turtles could hit shelves late 1st Quarter / early 2nd Quarter 2016. Let's hope they can keep to that schedule. Cowabunga!