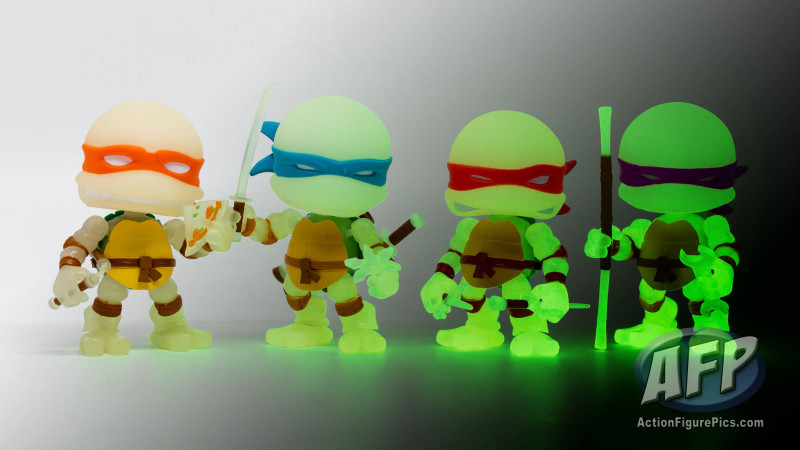 I've quickly become enamored with the Teenage Mutant Ninja Turtles Action Vinyl line by The Loyal Subjects. The Action Vinyls sport a decent amount of articulation for this category. When you couple the license (TLS also has G.I. JOE, Transformers, and Street Fighter and Masters of the Universe on the way) with the attitude-filled sculpts, consider me hooked.
One of their latest TMNT offerings is this "Radioactive" glow-in-the-dark set, which is exclusive to Hastings. If you're new to the line, this is a pretty good set to pick up. It includes all four Turtles, which can be a little painful when you're dealing with blind-boxed figures. And each comes with all the accessories that the blind-boxed figures have, excluding the character cards.
The regular issue Action Vinyls come blind-boxed (you can pick them up at Hot Topic), but the retailer exclusives usually come in window boxes, that show off the figures. The bonus that provides with this set is that you can try out the glow-in-the-dark without unboxing. Joe Allard has been the go-to designer for TLS across many of their lines – his artwork adorns the box.
But let's face it – a line with this kind of size and posing possibilities demands to be played with. One thing I noticed when I unboxed my set is that the hands grip their weapons and accessories a lot better than individually boxed figures. Speaking of accessories:
Leo comes with a pair of katana, a scabbard for them that plugs into his back, and a pair of shuriken.
Raph comes with a pair of sai and a pair of kama.
Mikey comes with a pair of nunchaku and a pizza . The pizza is split into a quarter slice with the other three slices as a separate piece.
And Donnie comes with his bo staff and a wrench.
Similar to the regular release Turtles, each has subtle color differences in their skin tones that you can notice under regular lighting. In the dark, they all glow equally well. So do all of their accessories.
Here's a quick video showing the transition from lighted to glow-in-the-dark. I wish I could say I was able to shoot this on my fancy camera – but I couldn't figure out how to set my camera to capture it on video. Instead, it uses the start and end photos with computer generated transitions in between. Still, it does look remarkably like what I saw as I slowly dimmed the lights in my photo booth.