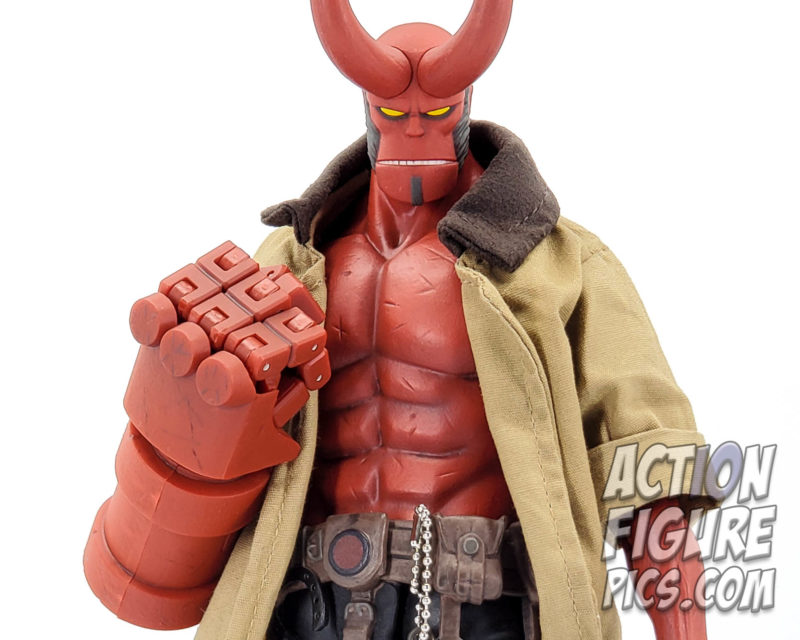 Dark Horse Direct captured my attention at San Diego Comic-Con last year with its reveal of a comic-based, super-articulated Hellboy in the 6-inch scale from 1000toys. It had been over 12 years since Mezco had produced a much-loved series of comic book Hellboy figures. And with a movie reboot in the works, I easily overlooked the $120 price tag – the most I've ever spent on a figure in this scale.
Fast forward to the present. I've got the figure in hand. And while Dark Horse has teased a companion Abe Sapien, the movie starring David Harbour bombed, tarnishing the brand and making this Hellboy an expensive, potentially one-off figure. With that in mind, does it live up to the hype and expectations?
I normally don't spend time talking about packaging. For a premium product, however, I was a little surprised that Hellboy came in a package slightly smaller and less hefty than a comparable Mezco One:12 Direct figure – I suppose the lack of a stand accounts for that.
Notably, a beautiful slipcover over a non-descript black tray features a product shot and new artwork by Mike Mignola. The BPRD logo is glossy and catches the light well. The Excalibur accessory and full set of interchangeable horns that are exclusive to the Dark Horse Direct release came in a segmented plastic bag packed under the tray.
Hellboy also feels less hefty than his looks would suggest. The figure's torso is the likely cause. While appropriately beefy, it has a rubberized skin over an armature, instead of being made of a solid hunk of plastic. This hides underlying articulation in the abs, without much compromise; the skin shows the same level of detail as the plastic portions of the figure but doesn't restrict movement or cause the figure to "bounce back" from crunched poses.
The same kind of skin forms a cover over each of the ball-jointed shoulders. I am still trying to figure out how to remove Hellboy's trench coat, so I'm not sure just how well the shoulder articulation is obscured. If you know how to do that, please let me know!
Speaking of the trench coat, I was surprised just how much I love it. The material is light and thin enough to look natural on the figure. And internal wires let you "pose" the coat in some really dynamic looks.
And pose this figure, you will. The head, shoulders, hips, and left wrist are on ball joints. The knees and left elbow are double-jointed. The elbow also includes a ball-jointed swivel on the upper joint. The ankles may look fragile, but they are as tight and solid as the joints on the rest of the figure. I just wish the ankle joint was cast in black, not red. You won't have any problem getting Hellboy to stand, and you'll have the option of using his tail as a third point of stability. It's got the same flexible feel as the torso, and attaches via another ball joint.
My main gripe with the figure has to do with Hellboy's Right Hand of Doom. While I was intrigued by the prospect of articulated fingers, in practice it's a bit over-engineered. There's too much finger and not enough palm. There's almost no limit to the poses, but I think the RHOD only looks good in a fist.
A combination of ball joint and hinge for the right elbow allows great range of movement with the RHOD, and a ball joint in the right wrist gives it some limited tilting. And the light plastic seems durable without upsetting the figure's balance.
I was most worried when switching out Hellboy's left hand – he comes with interchangeable fist, sword / gun hand, and an open hand. The hands are fairly rigid and I don't want to snap the peg. Heating them with a hair dryer before switching them should help.
The exclusive figure also comes with closed mouth and grimacing head variants. The horn variants can be used on either head and snap in via pegs that are unique for left and right horns. The other accessories look great. The cross dangles from Hellboy's belt via a small chain. The Samaritan's holster can be posed and removed via a ball peg, if you want a less bulky look with Hellboy's trench coat closed. I found the holster flap opening at the back a little odd.
I was extremely pleased that Hellboy fits in scale-wise with my 6-inch scaled figures. Unfortunately, I've misplaced my Mezco comic book figures, but I recall that those were a bit oversized relative to lines like Marvel Legends or DC Universe Classics. While Hellboy may end up being a one-off figure from Dark Horse Direct, he'll still have plenty of company. I look forward to pitting him against the Mythic Legion's orc and goblin hordes.
I'm still wrapping my head over spending $120 for one figure. But with interchangeable heads, horns, and hands, I've got in one package what would normally have been three or four variants in a wave of figures. If Dark Horse and 1000toys end up releasing the Abe Sapien, I'll likely pick him up too. Hopefully we'll find out at San Diego Comic-Con.
You can still pick up the regular variant of Hellboy at online retailers like BigBadToyStore. Now if only I could figure out how to take off Hellboy's coat…