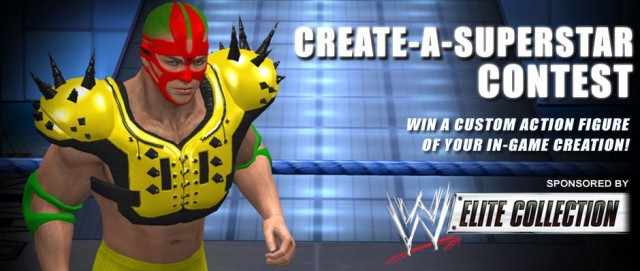 Wrestling and video game fans, this is a pretty cool contest just for you. Design your own WWE Superstar and you could win a one-of-a-kind custom action figure of your creation, from the Mattel WWE team.
Everyone has had a "favorite action figure" they cherish, but nobody can say they've ever had their SmackDown vs Raw Superstar Creation brought to life from their wild imagination in-game, and jump off the television screen in to the palm of their hand as a real collectible. WWE fans, we are making that dream a reality in our Create-A-Superstar Contest, courtesy of Mattel and their WWE Elite Collection.

One of you will have your SmackDown vs Raw 2011 Created Superstar brought to life as a one-of-a-kind action figure. It will be the only one ever made, the rarest of action figures, built to the very last custom detail of your unique Created Superstar from SmackDown vs Raw 2011! The winner will be selected by our development team, and who knows what your creation may inspire.

Entries will be judged and based on the following criteria: Creativity, Awesomeness, and Originality. The development team will select their favorite to declare the Grand Prize Winner. All entries must be submitted by December 18th.

2nd and 3rd place winners will receive a $25 merchandise gift certificate to WWEShop.com, but the Grand Prize winner will be etched in the history books of WWE as the only person on earth to have an official Mattel action figure built of their SmackDown vs Raw 2011 Created Superstar.