Before I get into the review, I wanted to share with you that I discovered today that I have too many toys just sitting around.  Many of you know that I don't have a lot of shelf space.  I had thought I rectified this by putting up new shelving unit cubes recently, in place of the two big plastic containers that I affectionately called "Staging Area One."  The problem  is that everything in Staging Area One (and on top of it) had to go somewhere.  So for now, they're in little canvas "drawers" that fit into the cubes.  It's still completely disorganized.
The worst part is that I can't start setting up figures on my shelves, because my wife wants to replace the carpet – meaning everything, including the shelving units I just assembled and stacked, will have to come out.  My reason for telling this story?  I wanted you to know why I couldn't find the original Super Skrull for comparison, and why Ronan the Accuser is without his Universal Weapon.
Ok, let's get into this, my third of three reviews on the new (kind of) Marvel Legends 2-packs that are hitting shelves now.  Previously, I reviewed SHIELD Leaders with Maria Hill and Iron Man, and Ninjas vs. Super Spies with Hand Ninja and Nick Fury.  This 2-pack, entitled Alien Armies, contains a Skrull Soldier and a Kree Soldier – time to army build!
First, here's the packaged pictures from the Marvel Universe Covers Contest.
And my thoughts at the time: Marvel Legends 2-Packs Wave 2 – packaged
Skrull Soldier
The Skrull Soldier is a reuse of the Super Skrull figure released by Toy Biz in the Fantastic Four Classics line.  This is the fourth deco for that figure, as in FFC, the Super Skrull had a normal figure, a flame-on variant, and an invisible variant.  I'd like to tell you if the deco on the Skrull Soldier matches the normal version of the Super Skrull, but I wasn't able to find mine in.  From memory, it looks fairly close.
The major difference is in the extra arm attachments.  On the normal Super Skrull, they were colored to match the Thing and Human Torch.  On this release, they are gray and blue.  I'm not sure what those colors signify, but I suppose they made the color change to give folks who have the original figure another reason to buy this set.  The Super Skrull was one of the tougher FFC figures to find, so I am wondering if people would have minded if they just used the original color palette.
There are no structural changes from the Toy Biz release, and under Hasbro production the figure is solid – no frozen or loose joints.  It's fairly large, so while I buy it as the Super Skrull, it may be a bit too big for comics purists to consider it a normal Skrull soldier.  For those of you so inclined, you have a smaller (but probably still too big) option in the Marvel Select Skrull.  In Secret Invasion, all the Skrulls got some kind of upgrade to be more menacing, so you could consider this one of those Skrulls.  It's too bad for Hasbro that they weren't able to get these on shelves in time to get more buzz from all the Skrull action during Secret Invasion.
Kree Soldier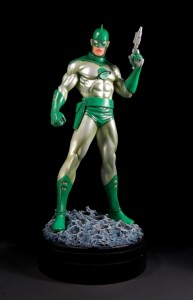 The Kree Soldier is actually pulling triple duty.  First, it's a pink-skinned Kree Soldier.  Second, with the alternate head, it's a blue-skinned pure-bred Kree Soldier.  Finally, for those trained in Captain Marvel, you could consider this your first appearance Captain Marvel, from his appearances in the 60's.  It looks like this figure took some inspiration from the Bowen statue of the 60's Captain Marvel, which would explain the holster on the right hip with the pistol in the left hand.
The body is mostly Quicksilver from the first series of Hasbro Marvel Legends.  The figure has new elements from the elbows and knees down, and the wrist and ankles incorporate the Hasbro-style joint that incorporates a swivel and disc – this eliminates the need for swivel cuts in the forearms and calves.
The holster and shoulder pauldrons are separate pieces that complete the mimicry of the Bowen statue, although I think they have the effect of shortening the torso a bit too much and overemphasize the traps.  The holster has a notch in it that allows the gun to fit in well, and it can be removed.
I like the head sculpt, but think that it may have been a little bit misshapen in the production run.  I think they also could have toned down the blue skin on the variant head.
I really like the gun, primarily because someone took the time to match it up with the Bowen statue.  I'm pretty sure there's a ton of guns that Hasbro could have reused, but doing the little extras can make a big impact.
I also like it when they reuse this body, because I always liked what became standard in terms of Toy Biz articulation.  I don't miss the Toy Biz finger and toe articulation.  It never added much and I prefer fists or weapon holding hands, although on the Kree Soldier the hands are somewhat pudgy.
But I do hope that at some point we get new thighs on this figure.  They just don't have enough mass to them.
So, this completes our look at the new Marvel Legends 2-packs.  Overall, I think they're good to excellent figures – no misses at all.  I'm very hopeful that these sell well enough for us to be able to take a look at the next wave of 2-packs, which include Sharon Carter / Stealth Iron Man, white Hand Ninja / Dum Dum Dugan, and Invisible Woman / Human Torch.
Thanks to TheFwoosh.com's DisThunder, I've got four of the Nemesis wave to take a look at soon, so stay tuned!