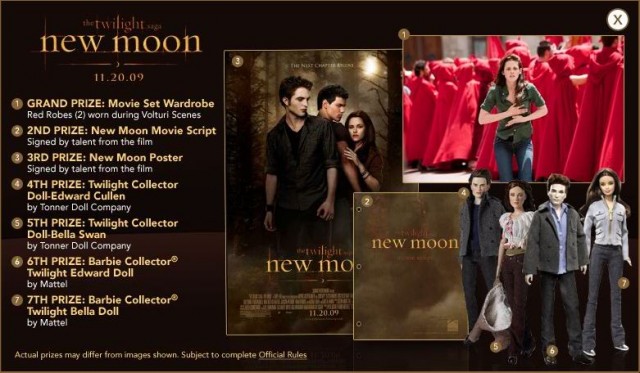 Twilight fans, please don't hold this against me, but I'm not one of you.  I have not read the books and have no desire to do so.  I haven't seen the first movie and have no desire to do so.  When I see the commercials for New Moon on TV, I laugh at all the slow motion fighting.  What is this, a teen romance vampire Matrix flick?
So you can all get a good laugh – my wife wants me to go see this movie with her.  And with her birthday coming up, I don't see how I'm going to get out of it.
But don't let my misfortune stop you from entering the Twilight New Moon contest at Toys R Us.
The ToysRUs.com Ultimate New Moon Sweepstakes! We are giving away 7 fabulous prizes, including signed memorabilia and more! One lucky winner will receive the Grand Prize of wardrobe from the movie set! Each entrant will be eligible to win 1 of 7 prizes!
Also, check out the NECA store on Amazon
– Twilight is their best-selling action figure line.  I wish it were Teenage Mutant Ninja Turtles.