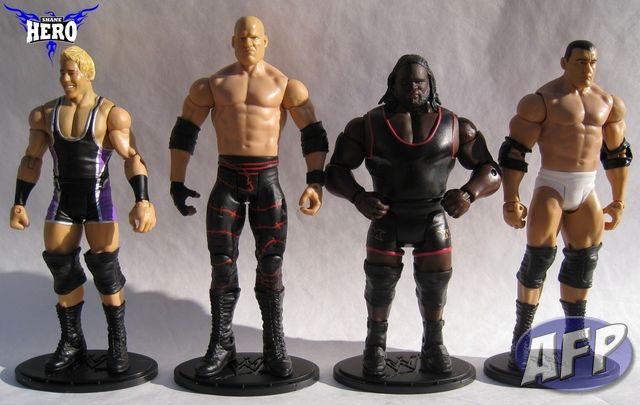 I think it has something to do with the tilt of Earth's axis, but somehow Australian Fwoosher SWH has gotten hold of the Mattel WWE Basic Series 2 ahead of the rest of the world, just like he did with Basic Series 1 back at the end of November.  Here are his pics and quick thoughts on the series.

MARK HENRY – The standout figure of series 2, despite not being a favourite wrestler of mine. A great unique sculpt that is distinctly Henry. There will be no reuse of this body. The head sculpt is also PERFECT. Probably the best likeness I've seen from Mattel yet. His skin is a matte colour, and that really seems to help the likeness, as opposed to the usual 'plastic' appearance of most others. As always, full costume detail. A great figure!

KANE – He is the HUGE figure of this series, probably as tall as S1 Big Show, and slightly taller than Elite Taker. He has unique elbow pads, and sculpted glove details.

KOZLOV – Another big figure, he's not the most exciting looking wrestler, but still this is a great likeness. He has unique elbow pads different from those used on Kane, with holes in the front. It's getting these sorts of things that helps make each figure look more distinct. The physique is perfect. The face is a good likeness, but I can't help but think they could have got something a bit more expressive out of Kozlov.

JACK SWAGGER – A great likeness, they got his arrogant grin. Good shading in his hair. Perfect detail on his outfit, unlike the horrible JAKKS figures of him.

CM PUNK – Interesting to note he actually has a different head sculpt from the Elite version, this one is more of a frowning expression, instead of the grin on the Elite. I actually prefer this face. Unlike Jakks of different sizes and shapes, this head looks the same proportions as the other Punk. All the same detail on the tattoos as the Elite.

REY MYSTERIO – Again, all the same detail on the tattoos as the Elite. Same head sculpt, but a different colour scheme. Only disappointing thing is that his head seems to sit far too low on the neck. The prototype pictures look better in this regard. Just a bit too low down. It could probably be fixed by boiling and popping and sitting it a bit higher.