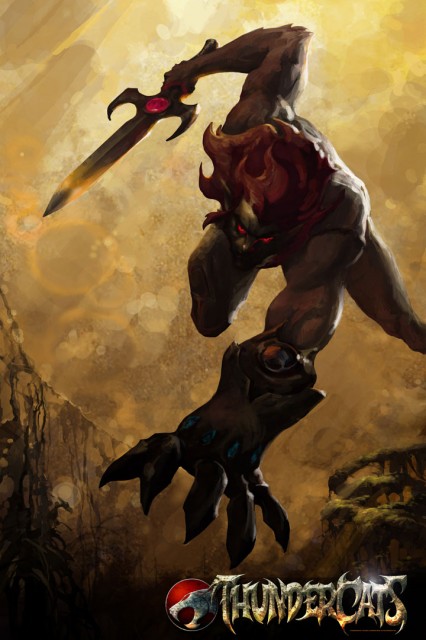 Warner Bros. Animation announced yesterday that they are launching a new animated series for ThunderCats in conjunction with Studio 4°C, to be aired on the Cartoon Network starting in 2011. In conjunction with that announcement, Bandai announced it had acquired the global master toy license.
The announcement states that the toys will cover both the new and classic shows. While Bandai is best known for their more kid-oriented properties, like Ben 10 and Power Rangers, I'm hoping this means we'll see some product targeted at adult collectors too.
THUNDERCATS, HO!

WARNER BROS. CONSUMER PRODUCTS AND BANDAI AMERICA INCORPORATED TEAM UP FOR INSPIRED PRODUCT LINE BASED ON POP CULTURE CLASSIC THUNDERCATS

ThunderCats Roars Back Into the Mainstream with Fresh Toys, New Cartoon Network Episodes

BURBANK and CYPRESS, Calif. – June 3, 2010 – Warner Bros. Consumer Products (WBCP) announced today a powerhouse partnership with Bandai America Incorporated, as the global master toy licensee for the animated series, ThunderCats. Under the new agreement, Bandai and their international affiliates will create and distribute products worldwide that will complement both the classic brand property, as well as Cartoon Network's fresh take on the animated series, with new television episodes set to air in 2011.

"With their legacy of cultivating fun and fresh play experiences for beloved character properties, Bandai is the ideal master toy license for ThunderCats," said Brad Globe, president, Warner Bros. Consumer Products. "We are thrilled to team up and introduce the ThunderCats property to a new generation of fans."

"ThunderCats have been a cult pop culture phenomenon for the past 25 years, and Bandai America looks forward to developing modern and engaging toys for these beloved characters," said Masayuki Matsuo, chairman and chief executive officer, Bandai America Incorporated. "Through the Bandai America and Warner Bros. Consumer Products partnership, die-hard devotees as well as a new generation of fans will be introduced to quality, innovative toys that will create magical playtime experiences capturing the adventurous spirit of the brand."

An all-new animated series, based on the iconic 1980s action classic, ThunderCats, is currently in production at Warner Bros. Animation. The new ThunderCats, a 21st century reimagining of the series that will air on Cartoon Network, will appeal to viewers who have loved the characters all their lives as well as young newcomers to the franchise. A sweeping tale combining swords and science and boasting ferocious battles with the highest of stakes, the grand origin story of Prince Lion-O's ascension to the throne – and of those who would thwart his destiny at any cost – takes on epic dimensions in this sharp new telling. As the forces of good and evil battle each other in the quest for the fabled Stones of Power, Lion-O and his champions learn valuable lessons of loyalty, honor and mortality in every episode.

ThunderCats is executive produced by Sam Register ("Teen Titans," "Ben 10," "Batman: The Brave and the Bold"). Michael Jelenic ("Batman: The Brave and the Bold," "Wonder Woman") and Ethan Spaulding ("Avatar: The Last Airbender") are the producers. The series marks a creative collaboration between Warner Bros. Animation and Studio4°C, one of the most vibrant animation studios in Japan.

Debuting in 1985, the ThunderCats roared onto the broadcast air waves and created feline frenzy with their band of cat-like heroes from the planet Thundera. Behind their fearless leader Lion-O, the ThunderCats strove to protect their new home on Third Earth and their headquarters, Cat's Lair, from the Mutants of Plunn-Darr. The ThunderCats pop culture phenomenon had its paws sunk deeply not only in television, but also toylines, apparel and comic books. Twenty-five years later, through the Warner Bros. Consumer Products and Bandai America collaboration, the beloved brand is poised to make a new audience of kids feel the magic and hear the roar once again.
via Bandai America Blog.