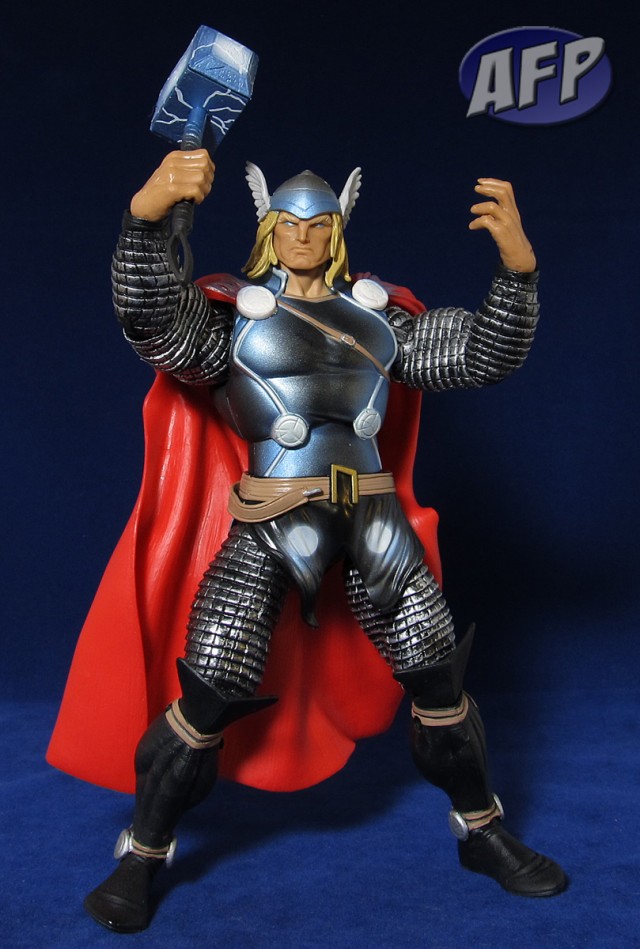 Whew! I'm finally getting around to dealing with my pics and loot from SDCC 2011.
Up first, I'm going to hit y'all with the SDCC Hasbro Exclusive Marvel Legends Thor! But before I get into it, much thanks to Sandman for snagging this for me when he was buying his Hasbro Show Exclusives as I was having more than a little trouble getting a damn ticket just to be able to stand in line to give Hasbro my money. They really need to do a better job with the retail booths at Comic-Con. In their defense, the line died to nothing by late Saturday afternoon when a lot of the Exclusives sold out, but the system could stand a little tweaking to be less frustrating to buyers at Comic-Con.
Like most SDCC Exclusives, Thor comes in a deluxe style package, Thor's being shaped like his trusty hammer, Mjolnir. Unfortunately I had to take the handle off of mine to be able to fit it in my suitcase for the trip home. The handle is just jammed in the socket in the pic above.
If you haven't been keeping up with the Thor comics in the past 3 years, this version of Thor is based on his current "Heroic Age" look and it's pretty obvious that sculptor, Paul Harding, was using Olivier Coipel's art for reference, which is super hunky-dory with me. IMHO, I think this is the best looking Marvel Legends Thor ever produced. Even so I have a few very little nitpicks about him. One, he's HUGE and really dwarfs other ML figures, you'll see in the comparison pics later on. Two, his cape, while nice and thin, is made of very stiff plastic and restricts some of the range of motion in the shoulders. And three, Mjolnir is a bit on the rubbery side and sags a bit. None of those are deal breakers for me though, I'd still buy him if I knew all that in advance. The construction of the figure is great and he feels like a good quality figure.
The paint applications are very tight on my particular figure with only a tiny bit of slop in a couple spots. And, in case you haven't read it elsewhere yet, the paint scheme on this version of Thor is to simulate the Thunder God in a "powered up" state as if he is about to call down a mighty bolt of lightning to smite his foes. A normal painted version of this same figure will be part of the upcoming Marvel Legends Terrax Wave.
Another thing I love about this Thor figure is that he has a good balance between POAs and sculpt. There are no unnecessary cuts to detract from the overall look or interrupt the flow. I'm especially happy to see that he has 90 degree pinned hips and can step forward and do side kicks without having to adjust the position of his hip balls!
Comparison Pic Time!
Like I said earlier, this Thor is HUGE. But he's such an awesome looking figure, I really don't mind it.
So there you have it, a quick rundown on the SDCC Thor, which heralds the return of Marvel Legends. The high quality of this Thor figure has me very excited about the upcoming Terrax wave and I can't wait for the first reports of it turning up at retail!
And, to borrow a trick from the Marvel movies, here's a teaser for my next SDCC acquisition that I will be reviewing…
Excelsior!!!