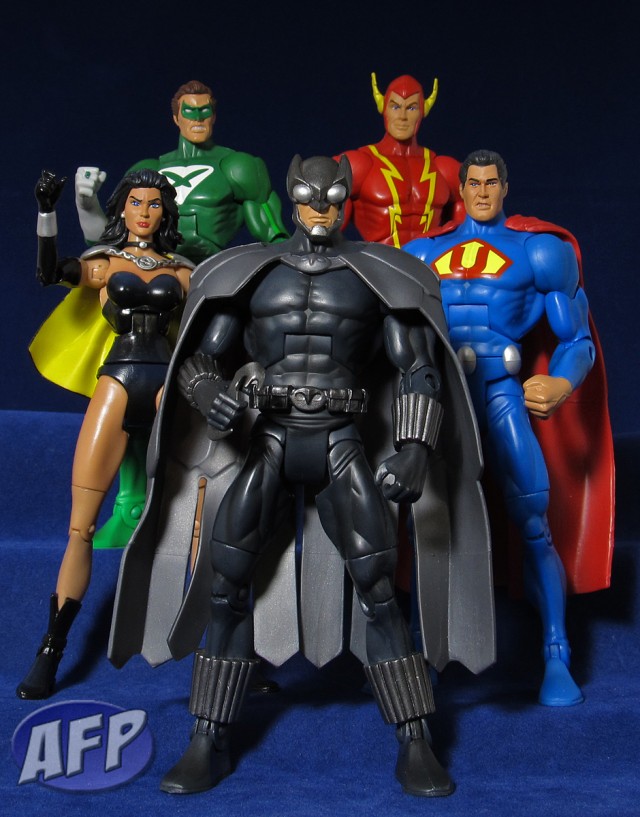 I've been traveling a lot over the past two weeks and doing some hunting whenever possible. A couple of days ago, on the way back home from South Carolina, I pulled into a Wal-Mart in Georgia and came face to face with these evil crackers from a fudged up dimension! The problem is, at first glance, you can't tell they're evil! Not one of them has a goatee, which any old sci-fi fan knows is the obvious sign of an evil personality from an alternate dimension.
But I digress. So there they were and there was me, looking at them and Owlman looked so good and I caved in and bought 'em. Then Ron caught wind that I had 'em and said; "Get 'em up on AFP, ya slow, lazy bastard!" So here you are, loyal AFP reader, some DCUC CSA Quick Pics to whet your appetite. You're very welcome. 😛
Johnny Quick!
Power Ring
Ultraman
Unfortunately my set had the Ultraman with the blue neck and not the correct flesh paint. Oh well, beggars can't be choosers and I have paint.
Superwoman
One little cloud attached to my silver-lining for this set is that Superwoman's right shoulder is stuck. The evil kind of stuck that says; "This peg will snap if you force this." So her right arm is perpetually stuck at half mast. Maybe someone from Mattel will read this and throw me a bone? Hey, I can dream, can't I?
What makes the situation even worse is that Superwoman is one of my favorites of the set. Especially when I found out that evil Lois has the best working hip and torso articulation of any DCUC female to date. Just look at the pics below!
Owlman
Without a doubt, Owlman is the star of the set. He is total badness. Even if he did wear an owl on his head back in the day.
The CSA sets are hitting Wal-Marts now so get on out there and hunt them down! And if you don't want your Superwoman, let me know, I could use one with a functioning right shoulder.
Happy hunting!