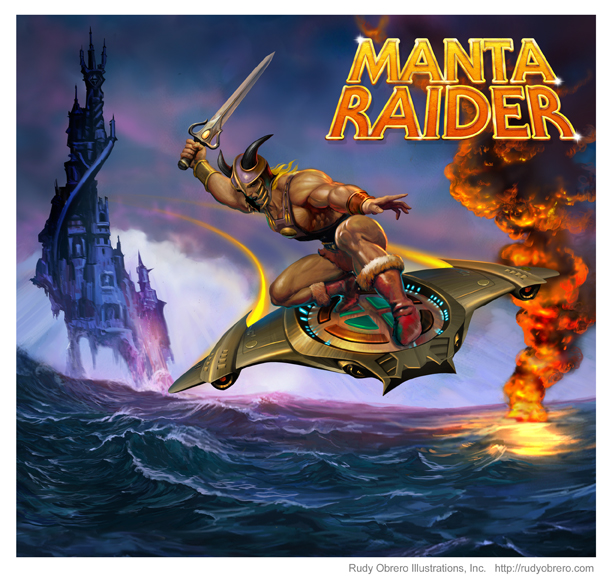 Joe Amaro shared the latest Rudy Obrero artwork that they will be using for the Manta Raider vehicles that will be available first as a limited run at Power Con next month. Notice the first? I pinged Joe for a quick Q&A, and there's definite plans to make this available, again, in a limited fashion, after Power Con. But if you want yours signed by Rudy, Power Con is the way to go!
AFP: What materials will you be using for the Manta Raider? Will details be painted, use decals, or something else?
Joe Amaro: The Manta Raider will be made of resin plastic. It will be fully painted by hand. The entire thing is made by hand – this is not a production piece that has been manufactured in a factory.
How big is the vehicle – can you give us the dimensions?
The vehicle size is:
Width: 7.5″
Front to back: 5.8″
Top to bottom: 1″
What has it been like working with Rudy Obrero on this project? How involved was he on the design of the actual model?
It has been a huge honor for me to work with Rudy! He is very down to earth and an all around a great guy. He is very passionate about his work and is a true fan boy! He is just like us, which made the experience even better because we could nerd out!
Rudy was very involved in the design. I made technical drawings of the Manta Raider and sent them to him. He would then send them back with revisions. He was involved in every step and approved everything along the way.
Any idea yet on the price? If not, when do you think you'll know?
The price for the Manta Raider will be $50.00 and will be limited to one per person. I am thinking about pre-selling them to help avoid any headaches at the con, Ha Ha! But I will not do that until I have them done and ready, so maybe by mid September.
There's a lot of interest for for the Manta Raider with folks who might not get to go to PowerCon – any ideas about getting this into the hands of fans who won't be at the show?
Of course, the Manta Raider is not a Power Con exclusive. Rudy just wanted some there because he will have a table at Power Con. So that is the first place it will be available. Later we plan on making it available online. The interest has been great, I even had retailers asking about it. I hope this is the first step in something bigger!
Joe, thanks for your time, and we're looking forward to seeing more of the Manta Raider!