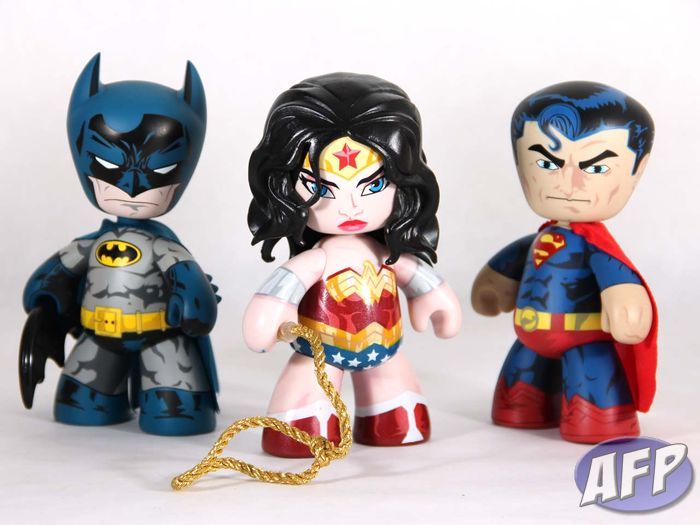 The DC Universe 6-inch Wonder Woman Mez-Itz was the Mezco exclusive from San Diego Comic-Con that I was looking forward to the most. After all, it's been all testosterone since Mezco launched the line with Batman and Joker a few years back, so Diana is the first female and final member of DC's Big Three to join this awesome vinyl line.
Nice packaging, if you intend to keep her in it. But nothing can keep her contained!
I like Wonder Woman's design very much. The graphics are crisp and I particularly like her eyes – so much so that I wish they had done something similar with Superman. Looking back at him, he seems a little beady-eyed in comparison. My Wonder Woman has some blue on her right hand – I don't think that's supposed to be there.
As expected, standard Mez-Itz articulation. Legs can be rotated, which allows you to tilt the figure forward or back, for stability. Arms rotate at the shoulder, and the head is on a ball and socket. The hair is soft and pliable, so you can rotate her head and not have it be obstructed by her arms – but it does still inhibit her ability to look, up in the sky.
Wonder Woman comes with her golden lasso as an accessory. One end has a soft plastic sheath so it can be gripped easily in either of her hands. The loop is not quite big enough to make it around the head of a standard 6-inch Mez-Itz, and it's not tied in a slip knot. I didn't want untie and retie it, as I worried about the gold being stripped off of it.
The Mez-Itz Justice League is shaping up nicely, and Wonder Woman fits very nicely with the others. I hope we'll see Flash join this line-up.
The only downside is that unlike the other 6-inchers in the line, Diana doesn't have her own enemy to fight. And Mezco has had more success with the smaller 2-inch line at retail, so I'm not expecting a 6-inch Cheetah any time soon. I do hope that Lex Luthor has enough draw for us to get a purple and green jumpsuit version.
Wonder Woman was long overdue in this line, but Mezco made the wait worthwhile. Unfortunately for folks who are still looking to pick her up, the SDCC metallic version of Wonder Woman has been sold out for a while. Keep your fingers crossed for a re-release with slightly different deco.
Big thanks to Airmax at Mezco for providing this figure for review.