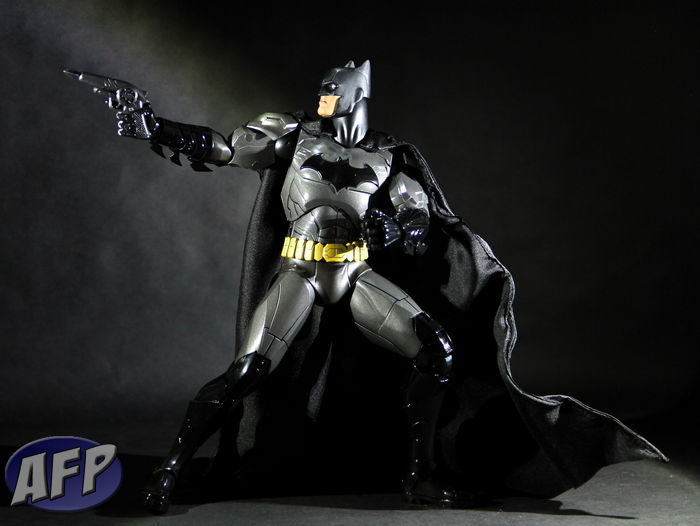 I had never heard of Play Imaginative, but was very intrigued when the Super Alloy Batman was announced as an exclusive for the Singapore Toy, Game & Comic Convention that was held at the start of the month. You see, as much as I've been a fan of the Nolan-verse Batman and Hot Toys with their 1/6 scale Dark Knight figures, my love of Batman started in the comics. The Super Alloy Batman hits on a sweet spot for me – its design is comics-based, from legendary artist Jim Lee, and it's super-articulated. Add to that the intriguing notion that much of the figure would be die cast metal, and I was hooked – I had to get one. The big question was, how would it stack up to Hot Toys, who in my view dominates the 1/6 scale for pop culture action figures.
Let's start with the packaging, which is a fairly sturdy box with an outer slip cover. The slip cover is adorned by a Jim Lee sketch of the Batman design, as well as a sticker indicating that this is the Special Edition glossy version of the figure, available only at STGCC – a matte version is available for pre-order from retailers now. The box underneath also has the same sticker. The bat symbol is die cast, and serves as a latch to keep the box flaps shut. I was surprised by the height of the box – that's a 6-inch DC Universe Classics Batman for comparison.
Opening the flaps reveals the figure, held securely in a plastic tray. The height of the box is explained by the gargoyle accessory, the top of which protrudes below Batman from underneath the tray. The inner flaps feature some biographical info about Jim Lee and a more complete view of the Batman sketch from the slip cover. As this is billed as the "Jim Lee" figure, I would have appreciated some commentary from him on the flap about the New 52 design, as opposed to the fairly generic bio, but no biggie.
When you pick the figure up, the first thing you notice is that it's got heft. It feels like something substantial. The sculpt is really clean, too – this is supposed to be an armored Batman, so the angular lines in the sculpt and the seams between the plating make sense to me.
What I really like is how Play Imaginative has managed to hide so much of the articulation. For example, the elbows are double-jointed, but it's well-hidden in the vanilla straight position. When you want to bend the elbow, you separate the forearm and biceps to reveal the joint. This allows the arm to look natural when straight but still retain the ability to bend. The joints in the hips are concealed by a very flexible overlay below the utility belt – this is very similar to how Square Enix articulates the hips on its Play Arts Kai figures. They've got great range of motion but hide the unsightly joints.
The cape can be posed too, thanks to wires sewn in to the seams on the edge. I was a little confused on how to attach the cape at first, but Play Imaginative put little magnets that stick to the die cast torso.
Inside the box is a warning about sharp edges – and those gauntlet spikes are indeed sharp. They're not enough to slice off your finger, but they're enough to give you a good jab if you're not careful. They're fairly thin, too, so between the pointed ends and that, you'll want to be careful posing the arms. I worry not only about stabbing myself, but also snapping the spikes off.
The Batarangs are also pointy, but aren't quite as worrisome as the gauntlet spikes. Batman comes with two of them, and they feature a handle that the individually articulated fingers can grip. This makes the hands very cool, but one thing I would have liked to see is the use of ball and socket articulation where the fingers join the hands. As it is, those are regular hinges, so the fingers can open and close in one direction. A ball joint there would have given the ability to spread the fingers out for a little more dynamic posing.
In addition to the Batarangs, Batman also comes with a grapple gun. It was a little surprising to me that these were both plastic. Relative to the figure, when you pick up the grapple gun, for example, you'll wonder why it's so light. While I don't think it would really look any different, there'd be a certain cool factor in having die cast accessories for a die cast figure.
The gargoyle base, too, is surprisingly light. It's got magnets in the flat portion, so Batman standing on it is stable enough that you shouldn't need one of those doll stands that comes with most Hot Toys figures. It looks great, and will work with Bats standing on it, but it's not quite wide enough to be used for how I'd want to pose Batman, hunkered down in a squatting position and surveying Gotham City stretched out below him. I'm not sure the figure would actually be able to get in that pose and be stable – the points of articulation which weren't what I expected were the ankles and neck. The ankles don't have quite the range of motion needed for Batman to squat down – there's an additional POA at the toes of each foot, but using those wouldn't make for a stable pose. The neck, which is articulated with ball and socket on both ends, unfortunately doesn't get much up and down motion, so you get an easy swivel but not enough tilt.
It was also a little too easy to unintentionally pop off the head and hands when moving them. In fact, my figure came with his left hand popped off in the box. I generally don't like having to reattach these kinds of parts to these figures because I worry about breakage. So in one sense I like having finger articulation because it means I don't have to swap hands – but that could be considered moot if the hands can pop off without trying too hard. A lot of the extra parts that come with Hot Toys figures are wasted on me because of this – I'd prefer to leave them in the box instead of the risk of breaking them.
One other thing I'd adjust is the strength of the magnets in the cape and base. While they both get the job done, it's still easy to tug at the cape to dislodge it. I also think there's something about die cast and magnets when you get a satisfying click when connecting them – I miss that click with this figure.
So just how does Play Imaginative's Super Alloy Batman stack up against Hot Toys? Pretty well, considering that Super Alloy is a new line for Play Imaginative and this is their first figure in this class of collectible. The die cast heft makes for a solid feel in your hands – in comparison you'll find yourself wondering why the Hot Toys are so light. The sculpt and articulation is on par, but one part where Hot Toys has absolutely nailed it is in the head and neck – more range in motion there would make this Batman that much more expressive.
Speaking of heads, I also prefer the size of the Hot Toys heads. The Super Alloy head is a little small for my taste. Hot Toys has gone for a more realistic proportion, while Play Imaginative has opted for a more heroic proportion – this is measured by how many heads tall the body is – for more on this, check out this tutorial on anatomy and proportion.
One final comparison point – Hot Toys has honed their craft such that build quality is not a question. With parts popping off, Play Imaginative could improve in this regard.
Minor issues notwithstanding, this is a very solid debut for some new competition in the 1/6 scale. I'm very happy with this figure, and can't wait to see their next Super Alloy release – the Iron Man Mark VII should provide an even more head-to-head comparison with Hot Toys, and with another die cast body, I'll want to check it out. But for now, if you're a Batman fan looking for an armored 1/6 scale Bats, you can pre-order the Super Alloy Batman at BigBadToyStore.
Special thanks to Jedd-the-Jedi for getting me set up with this figure!