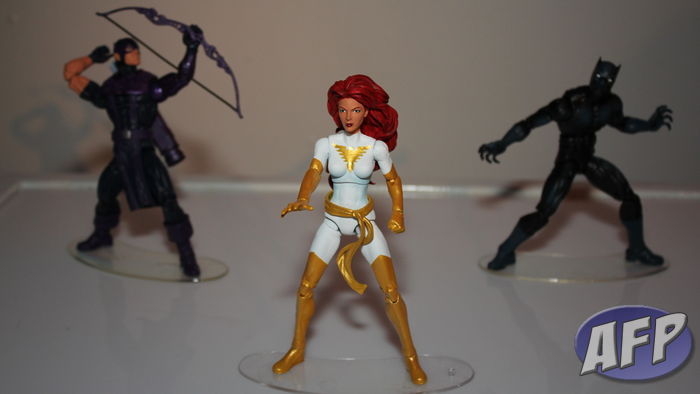 Hasbro held an "Early View" party at Studio 450 last night. I snapped some Instapics with my phone – check out the Marvel, G.I. JOE, and Transformers posts – but here are the shots I took with my camera. While the folks on hand were not completely certain on where these would land, but Black Panther, Hawkeye, and Phoenix are currently planned for the second wave of Marvel Legends in 2013.
Black Panther
I believe this is the Bucky Cap body with new head and hands. Some folks on the boards were concerned about head size, but I think that may have been a result of the camera phone shots. The head looked fine to me in person. This will be a great update to Black Panther – the original Toy Biz figure was good, but I think this buck is superior, plus it's the Panther in his most classic costume.
Hawkeye
Some folks were wondering if this was a new head sculpt. It definitely is. It was tough to get a clear shot of it, as the lighting in the room was not great and the bow obscured the flash. It's Bucky Cap again (no complaints here) with the chain mail and tunic overlay. The overlay is one piece, at least on this prototype, so I wonder how that might impede the waist swivel.
Phoenix
I believe Phoenix is on the standard ML female buck with the plain upper torso that was used for Psylocke. The new pieces here are the head (thankfully) and I think both hands, one exerting the Phoenix force and the other in a fist. Phoenix and Hope have a resemblance – the head does look a tad on the large side, but I think this is a pre-tooling head on a cast of a production body. So I think we'll see some changes here when this head does get tooled up – I hope it doesn't get mangled like we saw with Madame Viper.
Hasbro opted out of NYCC this year, aside from panels for Transformers and My Little Ponies – so we will probably see our next major update from them at Toy Fair.