Jedd-the-Jedi got to meet a few of the good folks at Hot Toys during the Singapore Toy, Games & Comic Convention back in September. Over the weeks that followed, Jedd put together an interview with JC Hong, who is the chief painter and production director for Hot Toys. There's some very interesting stuff on how 3D technology is affecting their business, and how the US and Asian markets are different. Read on!
Jedd: Hot Toys designers, artists, sculptors and painters are known for their stunning attention to detail, capturing tiny nuances in faces, costumes and props that the regular person wouldn't be able to catch. How much access do you have to conceptual art, costume/prop designs, set photographs etc. when working on products licensed from movies? Can you walk us through the creative process that goes into creating a Hot Toys figure?
JC Hong: The Hong Kong team is very good at searching for photos, fully checking details, and giving good opinions to us. Most of my job is on human faces. For creating a collectible figure, communication is very important.
I'm sure every filmmaker would love to have Hot Toys figures based on their movies. How do you go about selecting specific licenses to make action figures from?
We are very happy about that. It is usually selected by the Hong Kong office.
And thank you licensors for their support.
Have you ever had an actor whose likeness you replicated in action figure form ever comment on the figure, saying how much it looks like him or her or how good a job you guys have done? Have you met any of these actors in person?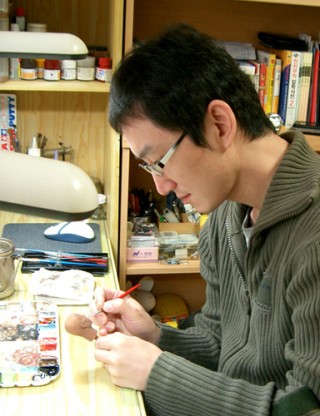 Our Hong Kong team discusses with the movie company. Yes, sometimes actors would comment on whether the figure looks like them or not.
In a day and age where detailed head sculpts can be created using 3D computer scanning technology, many still say that the hand-sculpted heads by Hot Toys beat everything else. How do you achieve such realistic head sculpts? What are the different elements that go into creating such lifelike faces?
The bone and muscle are not easy to sculpt and need to be studied a lot.
One day, Yulli asked me, with 3D computer scanning technology, one day will we not need a sculptor? I answered, all in all, we need human hands for the head sculpt and fine details, and 3D computer scanning doesn't apply to those people who are dead already.
Collectors are beginning to acknowledge that the major American companies may be losing their edge, and that import market toys from countries such as Hong Kong, Japan and Korea are where it's at. What do you guys think it is about toys designed and created by Asian artists, and how do you think the American toy market could learn from the Asian one?
Actually we learn from American Toy market.
Before, we don't know about Iron Man, etc. and those American superheroes.
Nowadays, many Asian artists design and create the toys, and I believe that Asia becomes a prominent market too.
You always continue to be creative, with innovations such as the Parallel Eye Rolling System, flexible outer skins that cover the base body and conceal the joints, and recently Batman cowls with swappable lower faces to create different expressions. What can we look forward to on this front from Hot Toys, what innovations are you currently experimenting with?
Hot Toys already makes a maximum quality for the 12" collectible figures.
We are thinking how we can lower the costs but at the same time producing high quality collectible figures.
Hot Toys figures are, admittedly, very expensive – what would you say to those that just write your figures off based on your price tag?
We are trying our best to keep the quality and lower the price for customers.
What got each of you into the toy business? Did you enjoy collecting toys as children or teenagers?
I like collecting the 12" collectible figures. And we are thinking to have a wider collectible line in the future.
What toys and action figures other than those you've created do you guys collect or own?
We like to collect those figures of Sci-fi movies such as Aliens, Back to the Future, Predators, etc.
Many thanks to Jedd, JC, and the good folks at Hot Toys. They've been patiently waiting for me to post this for the past few weeks.