If you told me I'd one day be writing about Geoff Beckett and Dave Vonner in a single post I'd ask you what Bizarro world we've been transported to. Apparently, it's one in which Bizarro does not exist, because both guys just might be making action figures from independent comics real soon.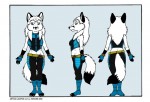 Let me start with an update on GBJR Toys and Geoff Beckett's Save Indie Spotlight campaign on GoFundMe. When last we checked, the Save Indie Spotlight campaign was floundering at just over $700 raised. And while the comments on the post here were predominantly negative, the campaign is now upwards of $17K, approaching the $20K funding target. Could it be that Beckett will be getting another shot at series 2 of Indie Spotlight, which had its inauspicious beginnings years ago while still part of Shocker Toys?
Beckett has had help from two big donations taking advantage of the rewards to get your own toy made. Red Star Comics (I could find no info for this publisher) pledged $6K for their own Mallow, and Angry Viking Press, beneficiary of their own successful crowd-funding campaign on Kickstarter, pledged $10K for its own action figure, of indie character Artica, from Shawntae Howard's Extinctioners. Getting an Artica action figure was a $25 reward offered during Angry Viking Press's Kickstarter, which exceeded its $12K funding target and reached over $20K pledged, back in November. The estimated delivery for the action figure was listed in that campaign as July of this year.
Both of these sizable pledges to GBJR Toys are marked as "offline donations," which signifies ones made outside of the GoFundMe platform. These have to be entered manually by the people running the campaign, and they are not subject to fees, as online pledges are.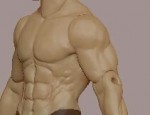 Meanwhile, David Vonner, one of my favorite guys in the toy biz, has been pretty busy since leaving Hasbro last year. He started up pop culture company Kasual Friday with fellow Hasbro alum Scott George, and opted not to join Jazwares – I was hoping he would make some improvements to their Mortal Kombat line of figures. (I really want some MK figures but can't bring myself to buy them in their current state.)
More recently, he's been teasing his Twitter and Instagram followers with an upcoming, as of yet unnamed action figure project. Some folks are convinced the silhouetted figure is Bloodshot from indie comic publisher Valiant. I suppose we will find out in the days to come.
So there you have it – two guys, one of them hated by the customers he's sworn to serve, and the other beloved by so many. Does that make Beckett a mutant and Vonner an Avenger? Dang it – there I go mentioning mainstream comics again.